There can be little doubt that John Curtin's employment as a parliamentarian placed some stress upon the available accommodation in the family home, which was eased during his absences.

In an age and a city where today large houses are built to command attention and reflect wealth and social position, the home of Australia's Prime Minister from 1941 to 1945, can only be described as modest. Yet his was the kind of house that most people knew or recognised.

John Curtin's home, the way he lived: his accessibility to friends, constituents, party workers and colleagues, his use of public transport, his membership of local sporting clubs, even his custom of walking the family dog, all touched the hearts of Australians.

Harry Krantz, sergeant in the 2nd AIF in 1942, recalls how troops in Darwin responded warmly to John Curtin and his simple life style.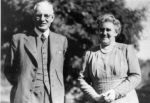 Last photo of John and Elsie Curtin together


John Curtin's coffin being escorted from plane, Perth, 1945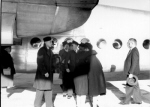 Elsie Curtin being met at Perth airport by John and Kath Curtin,1945
Prime Minister John Curtin died in Canberra in July 1945.

His body was brought to Perth for burial and his funeral cortege left for Karrakatta Cemetery from 24 Jarrad Street, Cottesloe.

These extracts from the Sunday Times (Perth), 8 July 1945, expressed the sorrow and gratitude of a nation still at war for the Prime Minister who died in office:



Gun carriage bearing John Curtin's coffin outside 24 Jarrad St, 1945
The house had always been held in his wife's name and was to be inherited by his daughter who moved back home in 1948 with her husband.

John Curtin's wife then took over the former kitchen which had been inhabited by her daughter, and where she became firmly ensconced. Later, his granddaughter, Beverley, occupied the sleep-out that had been her uncle's room.

John Curtin's son lived in the house opposite.

The furnishings, decorations and fittings shown in the video clips and colour photos reflect three generations of Curtins: John and Elsie Curtin (and Annie Needham), their children, Elsie and John, and their granddaughter Beverley, who grew up in the house.


Military band leading funeral procession through Cottesloe, 1945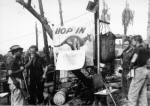 Australian troops in Balikpapan learn of the Prime Minister's death
In 1999 the Curtin family sold 24 Jarrad Street to the Western Australian and Federal governments and the house was jointly vested in The National Trust of Australia (WA) and Curtin University of Technology. In 2009 the University agreed to the transfer of the house to the sole trusteeship of the National Trust. Extensive conservation and interpretation works have since been undertaken at the house and it was officially opened by Prime Minister Julia Gillard and WA Premier Colin Barnett on 30 March 2011.
View further information about the Curtin Family Home on the National Trust website and in the State Heritage Register on the Heritage Council of WA website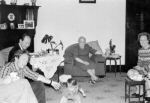 Mrs Elsie Curtin's birthday, 1974