The work of both the War Cabinet and the Advisory War Council was sustained through six hectic war years by a relatively small number of politicians and advisers. In fact nine Australian Prime Ministers served on those bodies at one time or another – Hughes, Page, Menzies, Fadden, Curtin, Forde, Chifley, Holt and McEwen. 1
The War Cabinet Secretariat was formed to provide administrative support to the War Cabinet and the Advisory War Council. This group of committed public servants, which included secretaries, stenographers and messengers, maintained a vast filing system and prepared copious minutes and agendas. The Secretariat was headed by the Secretary of Defence, Sir Frederick Shedden, and was based in offices at the Victoria Barracks, Melbourne.
Over its lifetime, the Secretariat supported 355 meetings of the War Cabinet, dealt with 3 998 agenda items and recorded 4 645 minutes. Similarly, for the Advisory War Council, staff attended 174 meetings and dealt with 727 agenda items, recording 1 618 minutes. Prime Minister Chifley noted the importance of the records maintained by the Secretariat:
these documents, which would go into the archives of the Commonwealth, would be available to historians of this and future generations as the authentic record of the administration of the Government and ministers concerned, and the service they had rendered to Australia in the most critical period of her history. 2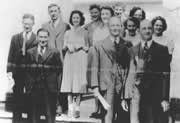 John Curtin Prime Ministerial Library. Records of Alan Salisbury. War Cabinet Secretariat & associated Defence staff at East Block, Canberra March 1943. JCPML00235/6
Staff at Victoria Barracks (war years). Eileen Lenihan (left), Mr Holt and Peg Frances., 1939
National Archives of Australia: M3130, 157
The staff of the Secretariat
'Documentation, thy name is Shedden' 3
Staff of the War Cabinet Secretariat formed a close-knit team overseen by Sir Frederick Shedden. Born in 1893, Shedden joined the Department of Defence in 1910, and remained there all his working life. The Department became central to his life, and although the onset of the Second World War made him the most influential and powerful public servant in Australia, he shunned publicity. Always beautifully presented in a well-cut suit and tie, Shedden was the epitome of a high-ranking public servant of that era.
The Prime Minister may have driven the [Defence] Department, but the engine was the Secretary, Shedden. A meticulous, indefatigable man, with a huge capacity for work, Shedden was 'a stickler for correctness and accuracy'. 4
Jean Salisbury, personal stenographer to Shedden, believed him to be:
one of the great public servants of all time, and he ran a very tight ship in the exercise of his secretaryship. And he was such a famous person and so strict with his staff that everybody was really frightened of him – although I say that with a bit of humour. But he was a most efficient and wonderful public servant. 5
Shedden rarely took time off and soon after the outbreak of war John Blake, a journalist, commented in the Melbourne Sun that:
Night after night in this last eventful week I have looked over Melbourne's skyline to see one squat block of buildings stabbed with light long after the rest of Melbourne has gone to sleep. On some nights the lights never went out. Midnight, one, two, three, four – and still they burned on. In the rooms they lit, the brains of Australia's defence concentrated on their biggest defence problem in 25 years. And one of the latest to be dimmed was the window of the Secretary for Defence, Frederick Shedden … He looks more like a University professor than the permanent head of the nation's defence department. Slight, rather sleekly grey-headed, dapperly suited in blue, with that blue-eyed type of humour one usually associates with intellect rarely far away, slim shouldered and supremely sensitive to atmosphere, Mr Shedden immediately inspires confidence.
It is not difficult to understand the wonderment of his subordinates at his irrepressible capacity for taking pains, and his ability – almost legendary in the past few days – for working the clock round and looking the better rather than the worse for it. 6
Shedden was a very private person. He was a remote figure known to few housed in Victoria Barracks, where he was referred to as 'the Secretary'. Those close to him perceived him as kind and considerate, and felt their work was appreciated. Staff worked long hours as they had to be available following meetings that went late into the night, and also on weekends and holidays. Mealtimes would be staggered to make sure that the office was always adequately staffed.
Apart from Shedden four other people formed the working side of the War Cabinet Secretariat – Bert Port, Vincent Quealy, Sam Landau and Alan Salisbury. All permanent public servants who had spent their working lives with one department, their experience in all branches of Defence organization was an invaluable asset in their work for the Secretariat. Port, Quealy, Landau and Salisbury worked as a team performing to Shedden's exacting standards of accuracy and precision. Their broad experience was invaluable in the recording and processing of proceedings of meetings.
Shedden, Port, Quealy and Salisbury were responsible for drafting minutes of the War Cabinet and Advisory War Council, and while Landau did not do actual drafting, he liaised between Shedden and the others.
This was a very happy team – our conditions were ideal, everybody was very friendly and people worked closely together and they had primarily in view the security of the country and the exercise of the war effort which was presided over so efficiently by Shedden. This continued throughout the war and the hours of work were tremendous and severe and everybody was imbued with the idea of doing the best for the country and the maintenance of the work of the War Cabinet was of the utmost importance. 7
Sam Landau joined the Defence Department in 1936 as Shedden's administrative assistant, responsible for the smooth running of the office, a demanding task, which he performed with great efficiency. Landau was in charge of all Shedden's staff, including six specially selected and qualified female librarians. Rose Fraser, Joan Price, Nancy Turner, Marjory Flower, Pat Colebrook and Lorna Southwell worked on special research projects and maintained personal files. Three of these librarians worked from Landau's office, and travelled to Canberra when the War Cabinet was meeting there, while the others worked mainly in the strong room in the basement of the Department.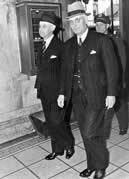 A meticulously dressed Shedden accompanies Prime Minister Curtin into General Headquarters, Brisbane, 1944.
John Curtin Prime Ministerial Library. Records of Frederick Shedden. Curtin & Shedden entering GHQ Brisbane, 27 June 1944. JCPML00591/2. Original held by National Archives of Australia A5954 661/12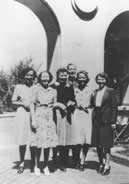 John Curtin Prime Ministerial Library. Records of Alan Salisbury. War Cabinet Secretariat & associated Defence staff at East Block, Canberra March 1943. JCPML00235/5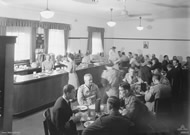 Busy meal time scene in the Staff Corps Mess at Victoria Barracks, 1945.
Australian War Memorial: ID 100915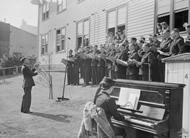 Life wasn't always just hard work - there was also time for enjoyment. At this outdoor concert at Victoria Barracks in April 1945, the RAAF choir performed, complete with a piano to accompany the singers.
Australian War Memorial: ID VIC0539
The stenographers
Shedden's staff included his stenographer Joan Rampling and a second stenographer, Jean Duncan. When Joan left the position in October 1942, Jean Nicholson, who had joined the Department of Defence in January 1939 as a seventeen year old working for the Secretary of the Defence Committee, applied for the post. She was selected from sixteen applicants, quickly becoming expert in reading the handwriting of senior staff.
A romance developed at the Secretariat between Jean Nicholson and fellow worker Alan Salisbury and they married in May 1945, with Jean relinquishing her job to Patricia Leggo. Quealy and Port also had personal stenographers - Margaret O'Brien and Norma Shaw.
Whenever Shedden returned to his office from a War Cabinet meeting, or any other meeting, his personal assistant Sam Landau was responsible for making sure that at least one of the stenographers was present even if it was late into the night. 8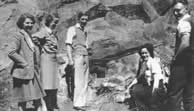 Members of the War Cabinet Secretariat socialising on an outing to Cotter River Reserve outside Canberrra, 1944.
John Curtin Prime Ministerial Library. Records of Alan Salisbury. War Cabinet Secretariat staff at Cotter River Reserve, Canberra 1944. JCPML00235/1
The work of the Secretariat 9
As well as maintaining official files, staff also liaised with the secretaries of members of the War Cabinet. Agendas and other documents had to be rapidly and safely distributed by hand, and as all material was classified and copy-numbered, every piece of paper had to be registered and accounted for.
In 1941 a system of notetaking was introduced at War Cabinet meetings in which senior public servants attended meetings as notetakers to assist in preparing an accurate record of decisions. The National Archives of Australia holds War Cabinet and Advisory War Council notebooks from 1941-1946.
During meetings of the War Cabinet and Advisory War Council Frederick Shedden sat next to the prime minister, while Port or Quealy sat at a small table keeping detailed notes of the discussion.

Shedden also made personal notes to assist him in editing the draft minutes produced by Port and Quealy. Landau had custody of Shedden's notes, which were not usually available to the others.
Ministers presented matters to the War Cabinet and the Advisory War Council in a paper called an agendum which usually concluded with a specifically worded recommendation on which action could be taken. Agendum papers were collated by the War Secretariat and circulated to ministers. Formal papers would not be circulated in advance if the meeting included general discussion with Chiefs of Staff and other leaders. In this case notetakers recorded enough of the discussion for a comprehensive account to be produced in the official minutes.
Anxious that the War Secretariat operate with maximum efficiency, Shedden stated that unless agendum papers were forwarded to him:
in ample time before a meeting to enable me to study them, to discuss any particular points with officers, and to make amendments which are considered necessary, the work is fruitless. If it is impossible for me to submit the notes to the prime minister, the work done, the bulk of which is probably correct may well be useless. … I view the failure to comply with my instruction very seriously, as everything possible must be done in advance to facilitate the quick disposal of War Cabinet business. 10
After an agendum was received the relevant branch of the Department of Defence would be asked to produce a briefing note on which the Minister for Defence could base a recommendation. These briefing notes would be thoroughly perused by Landau and Salisbury to ensure that every aspect of Defence policy had been considered and that relevant departments had been consulted. In cases where a specific form of words was recommended, and there were no contentious issues, Shedden prepared draft wording in advance.
If a discussion was anticipated relevant papers such as reports of the Chiefs of Staff, inwards international cables and other documents would be read in advance to provide background information. When a cable arrived from Britain regarding strategic policy, Shedden would seek comment from the three Chiefs of Staff before the matter was considered at a War Cabinet meeting. Where possible the Chiefs' comments would be collated and the draft of a suitable reply prepared.
All preparatory work for meetings of the War Cabinet and the Advisory War Council had to be undertaken as a matter of urgency.
Now I was familiar with the War Cabinet Room because we did a lot of running: when they had meetings on we did a lot of running around setting out papers and sorting papers and doing on the big War Cabinet table and this involved a considerable amount of night work and frequently we were working to well after midnight. I think the latest time I ever knocked off was twenty to five one morning at Victoria Barracks, Melbourne, and we were really stressed out, but we were delighted to do it. 11
Billy Hughes, a somewhat eccentric member of the War Cabinet had a reputation for losing his papers, and Alan Salisbury would:
go over to him and say, 'Mr Hughes have you got all your papers for the next meeting,' And he'd say, 'I don't know where they are; I don't know where they are.'… I knew very well he had them inside his coat pocket so I'd say, 'Can we have a look in there?' So he'd throw the lot on the desk and said, 'You sort it out.' So I sorted it out and we worked that out alright. 12
After the meeting preparation of minutes was a joint effort and Port and Quealy would read through their rough notes to refresh their memories. Port usually wrote a detailed account of general discussions himself, but much of his work related to decisions on specific recommendations making it easier to finalise a minute. Occasionally when the subject matter was unfamiliar, assistance would be sought from senior departmental staff.
Salisbury frequently produced draft minutes for Quealy. They would discuss Quealy's rough notes and Salisbury would then produce a rough draft for his consideration. Drafts were typed by Port and Quealy's personal stenographers, Norma Shaw and Margaret O'Brien, though if the subject was considered sensitive, typing was carried out by Jean Nicholson.
All draft minutes would be submitted to Shedden for approval, after which:
(a) Minutes relating to specific recommendations were reproduced by duplicating with copies to the Secretary's files, the Defence Departmental files, and the War Cabinet Secretariat. The last- mentioned was responsible for transmitting copies to the originating Ministers and their Departments for necessary action. Such distributions were limited to actual need.
(b) Minutes not based on an Agendum were typed (or duplicated where justified by the number of copies required) and distributed according to Shedden's directions.
(c) Minutes of high-security and sensitive matters were typed often only one copy for Shedden's files – but otherwise with a minimum distribution as directed by him.
The final action was to have all the Minutes of each single meeting typed in sequence in a loose-leaf book, mostly by Shedden's staff, but occasionally by Port's or Quealy's stenographers. At the end of each series of pages for a meeting, Shedden signed as Secretary of the War Cabinet, with space for the prime minister to sign later as a confirmation.
Three sets of these loose-leaf books were made - the original in Shedden's custody, the second under strict security in the War Cabinet Secretariat, and the third as a reserve in a Departmental secure strong-room under Landau's control. 13
Finally after each meeting, the staff recorded copies of minutes and distributed them - highly responsible and meticulous work.
(At the time of the death of the Prime Minister John Curtin minutes of a few meetings had not been confirmed by him, and these still lack the prime minister's official signature.)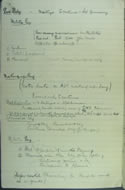 A page of Shedden's handwritten notes from the War Cabinet meeting of 17 October 1939, in War Cabinet Meetings Notes 27/9/39 to 25/1/40.
National Archives of Australia: A5954, 734/1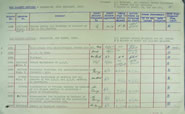 Page taken from the Schedules of War Cabinet Minutes prepared by Secretariat staff lists the minute number, agendum number, the subject, and includes columns for noting who prepared the minute, who approved it, any actions taken, press statements made, etc. Initials on this page for the meeting of 28 February 1942 include those of Mr Quealy and Mr Port.
National Archives of Australia: A5954, 734/2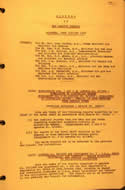 Page one of the typed War Cabinet Minutes of 24 January 1945. Discussion began with Agendum No. 4014 - Submarines in Australian waters and removal of boom defences from certain ports.
National Archives of Australia: A5954, 811/1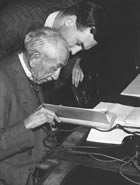 First Advisory War Council meeting, Billy Hughes reading document, 2 August 1940.
National Archives of Australia: A5954, 41/3
Handwritten notes in War Cabinet/Advisory War Council Notebooks. Page from Advisory War Council meeting of 9 September 1942.
National Archives of Australia: A9240/1, set 2 vol 4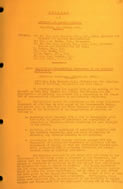 Page one of typed Advisory War Council Minutes for meeting of 6 Aug 1941. The first item on the agenda was 'The transfer of non-essential industries to war industry activities'.
National Archives of Australia: A5954, 813/1