Working interstate and overseas
Offices were available in other States, often in Commonwealth Buildings, for the use of the Prime Minister and federal members.
Wartime meetings took place in the Commonwealth Buildings in Martin Place, Sydney, the Commonwealth Bank Chambers in Forrest Place, Perth, the fourth floor of the Commonwealth Office Building in Anzac Square, Brisbane, and at 318-320 Little Bourke Street, Melbourne. 1
Prime Ministers Menzies and Curtin both travelled overseas during their terms of office and maintained 'offices on the move' to deal with the business of government at a distance.
Working while in transit
Travelling time was put to good use with the train often utilised as an office. Staff who worked for the Prime Ministers or the Cabinet Secretariat recall how the work of government went on:
All the way across [to Western Australia] in the train at every station you'd get cables and then I'd have to sit up in bed and decode them.
(Gladys Joyce, Curtin's secretary) 2

I remember taking shorthand notes from Mr Shedden in the train on the forward journey for transcription after we arrived in Brisbane.
(Jean Nicholson, later Jean Salisbury, Frederick Shedden's secretary) 3

The train had a big room that was used sometimes as a Cabinet room and sometimes as a dining room. It had a little kitchen and a chef and a waitress. (Hazel Craig, stenographer on Curtin's staff) 4
While travelling to attend meetings was often time consuming and exhausting for members of the War Cabinet and Advisory War Council, staff of the Secretariat laboured under additional difficulties caused by the varied locations of the meetings they were servicing. Moves between Canberra, Melbourne and occasionally other venues, created tremendous logistical problems because of the huge volume of records of a secret nature which had to be transported under close guard.
Secretariat staff bore the brunt of transporting themselves, documents, files, and office supplies to each venue. The bulk of the paper work was carried by safe-hand mailbags carried on the same train as the staff, but highly sensitive records such as the War Cabinet minute books required personal handling and were the responsibility of senior staffers Landau and Salisbury. On the journey from Melbourne, the material would be locked in four to six large steel-lined suitcases which had to be manhandled onto the train at Spencer Street station in Melbourne and transferred to the Canberra train at Albury. They were then stowed in whatever limited space could be found in a sleeping compartment, before being finally manhandled from the train to the office in Canberra. The whole process would then happen in reverse on the return journey to Melbourne.
Discomfort was increased when the loads of the nightly trains from Albury to Canberra and Sydney were reduced in the interests of fuel economy by substituting sit-up carriages for sleeping accommodation. After working all day in Melbourne, staff had to spend an uncomfortable night in the train before starting work the next day in Canberra, and the same happened on return to Melbourne. When an early start was required in Canberra, staff had to leave the train at Yass Junction at about 5.00 am for an hour's drive to Canberra by car! 5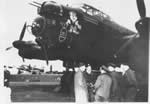 Prime Minister Curtin with RAAF men in Great Britain, 1944
John Curtin Prime Ministerial Library. Records of Frederick McLaughlin. Curtin in front of plane talking with RAAF men, 1944. JCPML00018/33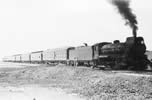 A troop train crosses the Nullarbor during the war years. The 'Prince of Wales' carriage in which Prime Minister Curtin travelled, is easily identifiable by its centre doorway.
Photograph: P Rogers Collection. Courtesy late L Smith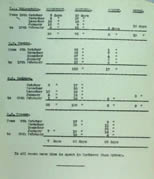 Members of the Prime Minister's staff were paid travelling allowances when away from home. This document shows that Curtin's private secretary, Fred McLaughlin, whose home was in Melbourne, spent 88 days away between 16 October 1942 and 19 February 1943. Mr McLaughlin was entitled to an allowance of 14 shillings and six pence per day, subject to certain conditions.
National Archives of Australia: A461, Z1/1/1
On a few occasions, the bulk of high-risk material was so enormous that it could not be transported safely by rail, and was carried by road. Landau and Salisbury each made two such trips from Melbourne to Canberra, using an RAAF vehicle with a driver. The journey had to be made in one stage in daylight, and written instructions were issued as to procedure. The escort officer carried an official authorisation requesting police assistance and protection if required, and the progress of the vehicle was recorded by police en route.

Because of government restrictions on travel, key members of the Secretariat were issued with official cards that entitled them to claim priority on interstate journeys. These cards were classified either as Priority 1 or 2, giving the holder precedence equal to that of ministers and Members of Parliament. Travel was generally by rail, and in the case of regular travellers, involved the use of yearly tickets. For instance, Salisbury had a yearly rail ticket available for unlimited use between Melbourne, Sydney and Canberra and used the ticket at least 75 times from 1942 to 1945. 6
The strain on the Secretariat is described by Shedden in a note probably written as early as 1941:
The experience of Parliamentary Sessions has shown that the War Cabinet work cannot be carried out in Canberra for a longer period than about a month without considerable congestion and overstrain of staff arising. Only a portion of the staff can be brought to Canberra and only a fraction of the papers. The work gradually becomes more difficult and reaches an acute stage at the end of about four weeks…
There are only two alternatives in this matter insofar as efficient administration is concerned. Either the Department of Defence Co-ordination and the Service Departments must be brought to Canberra or the War Cabinet must function in Melbourne. 7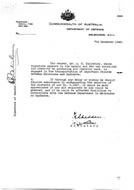 Letter of 7 December 1943 signed by Frederick Shedden identifying War Cabinet Secretariat staff member Alan Salisbury as transporting 'important records between Melbourne and Canberra' by Buick car and requesting assistance to safeguard the 'contents of car no. C.1207' in the event of 'any delay or mishap'.
John Curtin Prime Ministerial Library. Records of Alan Salisbury. Release of the War Cabinet and Advisory War Council Note-books, 6 December 1993. JCPML00190/1