Ben Chifley replaced caretaker Prime Minister Frank Forde on 13 July 1945 after being elected Leader of the Australian Labor Party. He led Australia during the final four weeks of the war in the Pacific and the period of demobilisation and post war reconstruction.
Personal glimpses of the PM in the press . . .
The new Prime Minister is as simple and unpretentious in his habits as his house suggests.
A good mixer, with no affectations, no delusions of grandeur, no power complex, he regards himself as a pretty average bloke, which is an underestimate of his ability, but an accurate description of his personality.
His suits are blue, single-breasted, usually a bit shabby and shiny in the seat.
He can be sympathetic and eager to help a genuine case. But pity help the man who is caught trying to "put one over" him – and invariable the intrepid fellows are caught.
Chifley is apt to speak to them bluntly, luridly, and very, very clearly, so that they never repeat the offence, and their ears burn for days afterwards.
One of the few Cabinet Ministers with a sense of humor, Chifley is more gregarious than was John Curtin, though he is about as lonely.
He has hundreds of acquaintances, but few real friends. He works 12 hours a day and longer in his office at Canberra.
He has a very average, very typical Australian voice, much though it may distress some Australians to have to admit it. He drawls. He slurs his vowels, drops his g's, runs his words together, is guilty of all the lazy Australianisms that irritate or captivate visitors.
There is a harsh, rasping quality in his voice which is partly natural, partly caused by a throat condition.
Yet it is a voice that seems to bring to his listeners some intangible reminder of the bush....
Never a stickler for formality, he seldom uses his ministerial car in Canberra, walks a lot in the Parliamentary gardens, knows most gardeners, public servants and typists by their Christian names. 1


Working in the Prime Minister's Office
Chifley retained the personal staff who had worked for Prime Ministers Curtin and Forde.
As Prime Minister and Treasurer, the Right Hon. J. B. Chifley will retain the services of the staff of the late Rt. Hon. J. Curtin including -
Mr. F.A. McLaughlin (Private Secretary - departmental) Salary 744-816(S)
Mr. E.W. Tonkin (Private Secretary) Salary 720 (s) and also the services of Mr. M. Tyrell, Private Secretary, salary 558-672 (s), his Private Secretary when he held the portfolio of Treasurer only.
Under the new conditions the duties of Mr. Tyrell will be substantially altered and the scope and responsibility of his work greatly increased. I am therefore directed to ask that his remuneration should be reviewed. 2
However, Gladys Joyce had found her years in the Prime Minister's Department arduous, so only stayed with Chifley long enough to set up his office, despite finding him a pleasant man to work for. 3
Phyllis Donnelly, who was secretary to Mr Chifley in Opposition and when he was Treasurer and Minister for Post-War Reconstruction in the Curtin Government, continued to work for him when he became Prime Minister. On the eve of the federal elections of 1940, Ben Chifley was hospitalized with double pneumonia, but was able to get 'reluctant medical leave' to 'show the flag' in his electorate. With a nurse and 'wrapped up to the ears' he was driven through his electorate and back to hospital, repeating the process on polling day. On Chifley's instructions Phyllis 'secured beer and sandwiches for the nursing staff supper on polling night' and sent Christmas presents to hospital staff up to the time of his death. 4
Chifley valued his staff, seeking out the best and most competent people available.
Chifley was more than kind to his staff, he was noted for that. I might say he had a succession of very distinguished private secretaries. The first was Bernard Hartnell who became Chairman of the Joint Coal Board, the second was Murray Tyrrell who became Official Secretary to the Governor-General and the third was Jack Garrett who became ... No.2 or No.3 in the Federal Treasury. 5
Every morning he did the rounds of the office and spoke to everybody, asking younger members of staff if they went out, or saw their boyfriends the previous night. He was very outgoing and 'there was a real interest in each person on his staff'. 6
Working hours
Prime Minister Chifley worked 12 hours a day or more when in Canberra, setting out from the Hotel Kurrajong at 8.30am to walk to Parliament House. First thing in the morning he would read dispatches that had come in overnight, consult ministers, his press officer and departmental heads and would therefore be well briefed before a Cabinet meeting later in the day. 7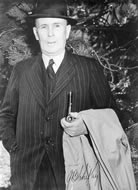 Joseph Benedict Chifley, Prime Minister of Australia, walks to work every day he is in Canberra. At 8.30 am on the dot, he leaves Hotel Kurrajong and, with his inseparable companion, his pipe,strides through the early morning sunshine to Parliament House. Australian Official Photograph April 1946.
John Curtin Prime Ministerial Library. Records of the Curtin Family. PM Joseph Benedict Chifley, April 1946. JCPML00376/155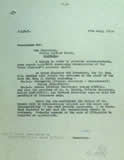 Memo from the PM's Dept to the Public Service Board, 17 July 1945, listing details of PM Chifley's personal staff.
National Archives of Australia:A461, Z1/1/1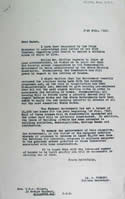 The difficulty of obtaining proper accommodation due to the shortage of housing in the war and immediate post war years was a problem for many families. Mrs C Wilson of Elizabeth Bay wrote to Prime Minister Chifley on 23 July 1945 requesting a Housing Commission home for her family of five, then living in just two rooms. Private secretary, E Tonkin replied on behalf of the PM on 25 July 1945.
National Archives of Australia: M1455, 48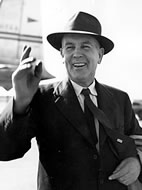 A relaxed, informal Ben Chifley. 1949
National Archives of Australia: A462, 778/03 Part 2
Despite carrying an enormous workload, Ben Chifley was 'always approachable and never seemed flustered or hurried.' 8 He had a 'masterful way of transforming chaos into order,' and was seen as 'a very informal, unconventional sort of cove' by one reporter. 9
Chifley had this extraordinary gift, it was as though unlike other people there were 25 hours in each of his days instead of 24. His door was always open, he seemed to be able to see anyone and he never seemed to hurry them off though he must have because of the very time factor. He could inspire extraordinary loyalty in his staff. 10
Dealing with the press
Don Rodgers, press secretary to Curtin in both Oppostion and government, continued to work for Prime Minister Chifley.
By the very nature of things, because the country was in such dire straits, of course, there was no question of his [Curtin's] relations with the newspapers because they all supported him, they had no option. Chifley was different. He didn't see the Press so often, partly because there was not a great need to, the war was over - not that he was afraid of the Press and he was on first name terms with the heads of service. Relations [were] quite good. His friendship with the working journalists was good, possibly in some individual respects better than were those of Curtin, because Chifley was the sort of cove who made friends. 11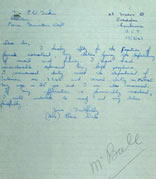 Additional staff were employed as needed. In February 1947, the Canberra Times ran an advertisement calling for applications for the postion of Female Assistant on the Prime Minister's personal staff. The required duties, as Mrs Elsie Dale noted in her letter of application to Mr E W Tonkin, were 'the despatching of mail and filing', tasks in which she had 'considerable experience'.
National Archives of Australia: A461, Z1/1/1