When it was officially opened in September 1972, the centrally located brick and concrete Robertson Library was the largest building on the Bentley campus and provided an educational focal point for staff and students.
The building was named in honour of Dr Thomas Logan Robertson who had played a vital role in the establishment of the Western Australian Institute of Technology (WAIT) and been a strong supporter of the provision of a major library for the Institute.

Architect Vin Davies designed the building while Geoffrey Allen, Foundation Principal Librarian at WAIT, was largely responsible for determining the layout of the internal spaces.

The building was flexible in its broad plan, as future needs were difficult to predict, and the vision was to provide 'an environment in which readers could study effectively'.1

For library staff, the large, modern building was a welcome base for operations and for the collections, both previously accommodated in temporary and scattered locations on and off campus.

In the early years the priority was building collections adequate to support teaching and learning at the recently established WAIT.

In the new Robertson Library building, innovation thrived and pioneering work took place, most notably in the automation of work processes and library systems and in providing education for library users.

Although there were many attempts around the world through the 1960s to automate library activities, successes were limited and the few commercially available library automation packages were rudimentary.2 To some extent failures to achieve viable automation in libraries were a consequence of over-reaching ambition to create one comprehensive system that would control all major library activities.

Allen adopted a piece-by-piece approach and this paid off to the extent that in the late 1970s and early 1980s, Robertson Library was almost certainly one of the most automated libraries in the country.3

The in-house systems developed brought efficiencies to the tasks of acquiring and cataloguing library materials, as well as providing a microfiche catalogue to replace the card catalogues, and an automated loan system which made date stamps and book cards obsolete.

The library education program focused on equipping students to use the Library's resources for independent enquiry and learning. A major success was the inclusion of the program in the teaching schedule of WAIT, ensuring virtually every student received some library instruction.4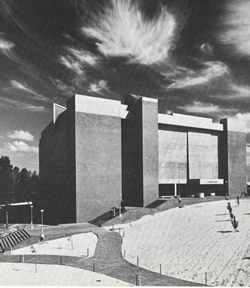 Robertson Library in 1972.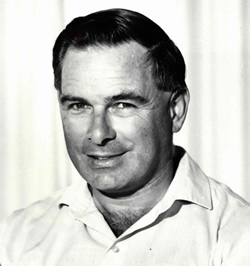 Geoffrey Allen, appointed as Foundation Principal Librarian of WAIT in 1967, led the Library for almost 25 years, retiring in 1992.

Born in England, he completed studies in geography at Oxford University in 1951. After moving to Sydney, Allen taught geography at Trinity Grammar School, worked at the State Library of New South Wales, then as a scientific librarian with the CSIRO.

In 1961, he moved to Perth to work at the University of Western Australia Library.