The Women's Health Collection is a treasure house of information about women's health, providing a resource for researchers interested in historical perspectives on what women were expected to know and think about their bodies and how they were expected to act.

Bridget Faye and Alexandra McManus provide their perspectives on the significance of the Women's Health Collection.

Mrs Bridget Faye (AM BA DipTheol) is one of the 32 donors who contributed to the purchase of material to enhance the Women's Health Collection in 1984. In 2001, she received a Centenary Medal and became a Member of the Order of Australia for services to the community, particularly relating to her work for women's affairs through the the National Council of Women.

What a remarkable collection of most important books and pamphlets about women's health! It brings together what was written about the 'taboo' subjects of marriage, sexuality and birth control back in the 18th century and especially in the first half of the 20th century. Perceptions of women's role in society expanded, thanks partly to the work of the suffragettes and also of necessity because in the two world wars many men's lives were lost and advances were made in medicine and hygiene.

The oldest book in the Collection was published in 1779, there is a copy of Marie Stopes' Mother England (1929) and many other notable publications and to have them available here in Western Australia is a valuable resource for those interested in women's studies. How attitudes and treatments about women's health have changed! That we will be able to find more of the collection online is another landmark for Curtin University Library. Thank you.

Alexandra McManus

Assoc. Professor Alexandra McManus (PhD, MPH, GAICD) is the Director of the Centre of Excellence for Science, Seafood and Health (CoES), an Associate Professor at the Curtin Health Innovation Research Institute (CHIRI) and Adjunct Senior Research Fellow at the Centre for Behavioural Research in Cancer Control.

It is indeed a priviledge to be asked to comment on the signifiance of the Women's Health Collection located at the Robertson Library at Curtin University. Since 1983, Curtin University has steadily acquired publications relating to women's health. The collection currently houses over 500 publications including the oldest book acquired to date, Domestic Medicine, was published 230 years ago.

This comprehensive and rich body of works not only provides a history of women's health over the past two centuries, it also encapsulates a social commentary of the changing roles of women in society and their struggle to be recognised as individuals with rights that move beyond roles essentially chosen for them, usually in either service or marriage. One significance of the collection is the documentation of the journey of women from 'servitude' in its many guises, towards an ability to make informed decisions and to sculpt their own journeys, whether that be leading a country or leading a family.

The collection is also an invaluable source of information to all research that is premised on the history of women and/or families. For example, the resourcefulness of women in their struggle to find ways to preserve their own health following multiple births in quick succession is detailed in the history of birth control. This part of the collection is fascinating to read, particualrly the comments around preserving the feelings of men whilst taking 'evasive action' or sharing homemade remedies.

Another part of the collection covers the development of treatments for sexually transmitted infections and the various consequences that befell women affected by them. This section is sobering in parts but compelling reading for researchers working in sexual health, sexuality and in generalised health areas relating to women.

My commentary provides a mere 'eyelash sized scratch' on the surface of this wonderful collection. The depth and breadth of the Women's Health Collection should be lauded by the research community as should the efforts of the acquistion staff involved and those benefactors who very generously donated to the collection. The Library is currently digitising parts of the collection to facilitate and maximise its use by researchers. Please take the time to visit this collection. I am sure you will not be disappointed, in fact, like me, you may find it difficult to tear yourself away.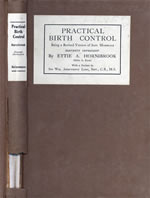 Practical Birth Control,
Ettie A Hornibrook, 1927