John Curtin was the epitome of the Australian 'good sport'. It didn't matter whether it was playing cricket in the backyard with his son John, at a local football match or in Parliament House, he was recognised for being fair, gracious and was held in high esteem by the public, friends, family, his team-mates as well as those on the opposing side.
The sportsmanlike nature of John Curtin contributed to his greatness as Australia's wartime Prime Minister. During the war his philosophy was 'The game is not lost - or won - until the last bell goes'.[1] Then, as now, he was recognised as a man of strategy, strength, courage and control who understood the importance of teamwork, especially in times of adversity.
In the present age of mass media it is not unusual to see Australian Prime Ministers at the international cricket matches, the Australian Football League Grand Finals or other prestigious sporting events. What set John Curtin apart was that he didn't grandstand and expect privilege. He preferred to stand amongst and to be a part of the crowd. He shared his love of sport, particularly football and cricket, with those he came into contact: 'talking footy' at the local shops in Cottesloe and on public transport; around the fire with his colleagues at the Hotel Kurrajong in Canberra; and expressing himself through sporting metaphors in his writing and speeches.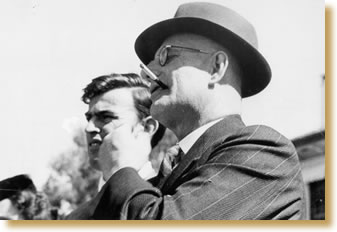 John Curtin standing with friends watching a football match in the war years.

JCPML. Records of the Curtin family. Prime Minister John Curtin, Canberra, war years, n.d. JCPML00376/27
In 1942 John Curtin went to a RAAF versus Sydney-Naval match at Trumper Park. When the Honorary Secretary of the New South Wales Australian National League, Ken Ferguson, found out that the Prime Minister was in the crowd he invited John Curtin into the official stand and to meet the players before the kick-off. He declined, smiling 'I'm just here as a barracker. I don't want to foist myself on the boys.' John Curtin became patron of the League and Ken Ferguson recounted that when the Prime Minister was in Sydney he would go to the games, coming in as one of the crowd and paying for his entry at full price. [2]