Australian football or Australian Rules Football, as it was known for many years, can trace its origins back to 1858. It was the first football game ever to be codified. In 1883, two years before John Curtin's birth, Laws of the Australasian Game of Football were adopted by the Intercolonial Conference. It is played at levels from primary school children to national league level, from city locations to remote outback locations. It is an exciting game that involves strategy, courage, strength, endurance and teamwork.
On January 8, 1885 John Curtin was born in the Victorian mining town of Creswick to Irish immigrants, Kate and John Curtin. His father was a constable who left the police due to ill-health. In 1890 the family moved to another Victorian town, Brunswick. As the eldest child, John Curtin, assumed family responsibilities at an early age. At that time life was hard for many in the community. Drought, depression and strikes meant difficult social conditions with many families suffering hardship. Despite the likelihood of achieving a scholarship to a private Melbourne school, John Curtin left school at 14 to work and help support his family. His love for reading, however, would remain with him all his life, as would his love for sport, cricket and football in particular.
Like many other young Australian children, John Curtin played junior football. Then as a young man John Curtin played first grade football for the Brunswick Club in the Victorian Football Association from 1905 to 1909. His position was on the half-forward flank, and it was said that he 'fitted neatly into the balanced - and talented - Brunswick combination'. [3] 'Dookie McKenzie' and Dick Casey [4], two of his team mates, went on to play in the Victorian League. Even in the early part of his life John Curtin was known for being a fair and clean player and a 'fine clubman'. At Brunswick his nickname was 'Bumble', a name that perhaps he inherited from his father, who was also known by that nickname probably due to problems with his feet. [5]
According to Brunswick Councillor W F Temple, it was through the Brunswick Football Club that John Curtin first became interested in politics. Frank Anstey, the President of the Club was also a prominent Labor leader and lifetime friend. [6] John Curtin also played for the Ruskin Football Club which was part of Victorian Socialist Party, a party formed to challenge and alleviate the hard social conditions that prevailed. [7] The VSP helped its members with food and clothing and also provided enjoyable diversions from the hard times. It had a band, choir, organised dancing lessons, picnics, dances, concerts and fielded sporting teams that accompanied its political activities and also provided recreation. [8]
As Prime Minister he often recounted his playing days with Brunswick during the war.
'The ball was coming toward me, and looked an easy mark, I braced myself for it, but couldn't leave the ground. "Splinter" Walsh, my taller opponent was standing on my feet, and "Splinter" took the ball. Now I'm in the same boat, "Billy's standing on my feet."' [9]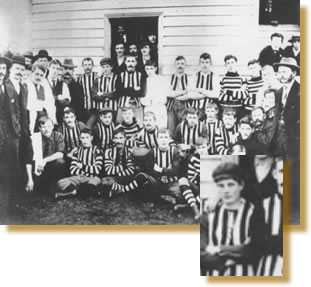 John Curtin, aged 20 with the 1905 Brunswick Football Team. In those days footballers' dress was very different. Bloomers, not shorts, came to the knee and all the players had long-sleeved jumpers.
JCPML, Records of the Curtin family. Brunswick Football Club, Victoria, 1905, JCPML00376/11.
More about Australian football
The game of the people for the people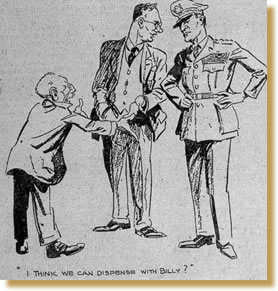 'I think we can dispense with Billy' might well have been a fond hope of John Curtin at times as captured in this 1942 cartoon on the theme of doing without in wartime!
Image from 'Enter Austerity' - Cartoon by Ted Scorfield in the Bulletin, 2 September 1942