Throughout the nineteenth century, Australia developed a reputation as a working man's paradise. It was seen by many settlers as a place that was free of the social hierarchies of 'home', a place that offered employment and the means to a comfortable life for all.
This dream came to an abrupt end in the 1890s, when a deep and widespread economic depression affected the eastern colonies. There were high levels of unemployment, continuous strikes and no support for those affected, leading to social unrest. Western Australia was the only colony that escaped, due to the wealth flowing from its goldfields.
It was against this backdrop that the decision to become a nation was taken
by the citizens of all the six colonies. Not surprisingly, this meant that while there was a lot of hope for the future, Federation also represented a moment of fear - a moment in Australia's history in which we looked inward rather than outward and sought to put up barriers to protect ourselves.
John Curtin's own experiences at this time reflected those of the majority of working Australians. In his case though, those experiences drove him to fight throughout his life for basic securities for all workers. This was a fight that strongly influenced the way he thought about Australia and the role of Federal Government.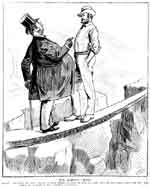 Livingston Hopkins, The Labour Crisis, Bulletin, 16 August 1890, p. 5. By permission of the National Library of Australia.