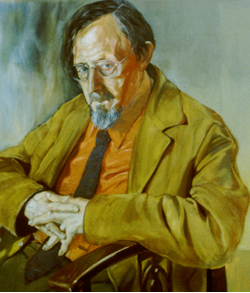 Portrait of Leonard Jolley by Ben Joel (detail)
Courtesy of Ben Joel
Glasgow
Leonard Jolley flourished professionally in Glasgow where the budget, book collection, and staff complement each were ten times larger than those at the Royal College of Physicians in Edinburgh. He launched a new journal he started, The Bibliotheck. And a book he was writing, Principles of Cataloguing, was apropos, since the library was about to recatalogue its entire collection. He buried himself in his work once more.
Elizabeth Jolley was pleased that their new home at 62 Abbey Drive was so much larger, with four bedrooms as well as what they called the Blue Room, Billiard Room, and Book Room. Personal space was still in short supply, though, because they had joined the East-West Friendship Society, renting rooms to male and female African, Chinese, and Indian students along with British ones.
However, the Jolleys had even fewer friends in Glasgow, their main visitor being John Broom, a librarian whom they had met in Edinburgh. Elizabeth Jolley was unhappier in Glasgow than Edinburgh: she was frantic from attending to everyone's needs, despairing of anyone attending to hers, and pessimistic about the future of her relationship with Leonard. As a result, a recurring nervous condition became chronic, and she was hospitalised at the Western Infirmary for six weeks from 8 July 1957 with ulcerative colitis which was so severe that a colostomy was contemplated.
During her hospitalisation, finding himself overwhelmed while looking after Sarah, Richard and Ruth, Leonard Jolley was forced to admit that he never had any rapport with children. He optimistically wrote to her in the hospital about a return to the time when their love was so strong, a time before the children were born. But, while expressing a hope, his letter did not reveal any thought about. nor propose any method for, improving their relationship. When she returned home, the house was in disarray, and Leonard was behaving like a disappointed child because friends from London who were to visit for his birthday cancelled at the last minute.
During her first week home, she wondered if A Feast of Life would be a good title for a second novel she had started more than a year before, in March 1956. Apparently an autobiographical work, its family home is "Flowermead," mentioned by name. It also describes a school that resembles Sibford, nurse training at "St Cuthbert's," and a married couple who take an interest in a young nursing trainee… Her choice of title was a breath-taking display of optimism.
Having been in Glasgow little more than a year, Leonard Jolley sought to move again. Since the Head Librarian had twenty years to serve before retirement, Leonard realised that he would be sixty-four before he could succeed him. He applied for a position at Sheffield, which he did not get, and one at the University of Western Australia, which he did. Elizabeth Jolley's diary entry for 26 April 1959 rhetorically asked, "Why did he apply for a post in Australia? I wonder if we go there whether things will be better or is it only part of the unreality which he is reaching out after." And Ruth Jolley wondered if there would be loos there.
Whatever the answers to those and other questions, on Tuesday 27 October 1959, the Jolley family sailed from Tilbury on the Orion, stopping at Gibraltar, Naples, Port Said, and Colombo before arriving in Fremantle a month later. "For my part," Elizabeth Jolley said, "I trailed along like an obedient squaw. The desire for space was irresistible…" ("Tricked or Treated?" p. 67).