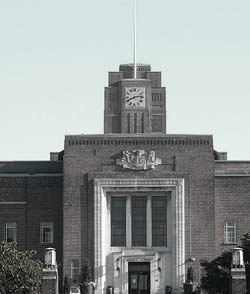 Queen Elizabeth Hospital
and Medical School, Birmingham
Courtesy Wikipedia
... Leonard and Joyce took what seemed to be a mentoring interest in her. ...
Birmingham
After Jolley passed her final orthopaedic examinations at Pyrford, she applied to the three-year course at the Queen Elizabeth Hospital in Birmingham which led to the qualification of State Registered Nurse. She arrived there 5 January 1943.
The Queen Elizabeth was larger and newer than St Nicholas and St Martin's, with 540 beds and accommodation for 600 students and staff. It was "modern" for being built and run in accord with the principles espoused by Florence Nightingale, even avant-garde for employing the Block Training System whereby the trainees did twelve weeks of preliminary work on the wards followed by six weeks of formal study and a week study break before exams, maintaining that regime despite the increasing number of patients. Because of the war, bed numbers nearly doubled by 1940, and after the D-Day Allied invasion of Normandy on 6 June 1944 the duty roster was changed for a time from six-day weeks of 7 am-9 pm shifts with four hours off to twelve hours on and twelve hours off, seven days per week. It was hectic and often urgent work with many disappointments, especially before penicillin became available at the QEH in 1944. But Jolley loved it, and at first she did well at it.
Despite the busy schedule and transfers from room to room in the dormitory, she developed a number of close friendships with her fellow trainees, particularly with Alix MacSwiney, another young woman from Sibford, and Mary Doyle, from Oxford. The three of them respectively appear as Trent, Lois, and Vera in My Father's Moon, one section being called "Lois." Soon after she arrived, she learned that the Quaker pacifist she had met at Pyrford was living in Birmingham and working as a librarian at the nearby Selly Oak Colleges library. He was Leonard Jolley who in August 1942 had married Joyce Hancock, the woman who visited him at St Nicholas and St Martin's. Leonard and Joyce took what seemed to be a mentoring interest in her. She started to visit them on her days off, in time occasionally overnighting at their home. Eventually she was seeing so much of them that her friendships at the hospital became strained and her work and study started to suffer. In addition, her parents were disappointed that they saw less of her and were concerned about her relationship with Leonard and Joyce, one that led to her becoming pregnant.
Forced to resign, she left the Queen Elizabeth Hospital 23 October 1945 to become a live-in domestic for an academic couple who lived with their year-old son in Selly Oak, an easy walk from the library where Leonard Jolley worked. She found it difficult to come to terms with her new situation where the couple went about their busy lives while treating her like hired help at their beck and call, which is exactly what she was. The limited freedoms she had at the Queen Elizabeth were further curtailed there, and she suspected that, like Margaret Knight, the woman monitored her writing to Leonard Jolley and her meetings with him in and around Selly Oak. Such unhappiness increased as her pregnancy progressed.
Then, after the birth of her daughter Sarah Tamar 30 April 1946, she became a live-in domestic for a family in Edgbaston, close to the Birmingham CBD. The wife was a respected doctor who had been scheduled to deliver her baby but was unavailable at the last minute; her husband was a well known portrait artist; and they had two sons, one born the same day and year as Jolley.
She was happier in her new position where the doctor took an interest in her daughter and where she and Sarah (then called Sally) had their own quarters. In addition, Leonard visited frequently, often without Joyce's knowledge, and they both pursued writing projects. He had a talk on the history of toys broadcast on the BBC, and she had a children's story broadcast ("George Henry the Caterpillar"). They collaborated on children's stories, and she started a novel, Eleanor Page, that they came to call Elephant Page, perhaps because it remained relatively formless as it became larger and larger.
In March 1949 she changed her name to Fielding, after the novelist she liked, Henry Fielding. Her child was nearly four years old, she was beginning to feel uncomfortable living in close proximity to two young men her own age, and Leonard Jolley did not appear to have any plans for regularising their relationship. So she answered an 8 April 1950 advertisement in the New Statesman: "Pinewood, Amwellbury, Herts requires Staff: Matron, teacher, Handyman/gardener. Elizabeth Strachan, Ware 52."
Having secured her first "real" job, she left the Edgbaston residence 21 April 1950, to stay with her parents in Wolverhampton for three weeks. While she was there, Margarete Knight doted on her granddaughter, and Jolley quarrelled with her for criticising her working as a domestic and refusing to name the father of her child.