Folklore Fieldwork Projects
The student folklore projects have been collected by the Centre for Australian Studies since 1985. They are the result of fieldwork conducted by students enrolled in Graham Seal's folklore unit at the Western Australian Institute of Technology (WAIT) and Curtin University. The Archive later extended its collecting to include student projects from the Research Institute for Cultural Heritage (RICH) at Curtin.
The WA Folklore Archive now contains more than 170 student fieldwork projects. As well as written reports, many projects include some or all of the following: oral history interviews, sound and video recordings, photographs, questionnaires and material objects.
Subject areas covered by the fieldwork projects include: Perth urban legends, graffiti, folklore of pregnancy and childbirth, brothel-lore, folklore of isolated communities, weddings, cemetary lore, droving traditions, kitchen traditions, drinking games, folk medicine, religious lore, child-lore, folklore of place, superstitions, dancing, ghost stories and migrants.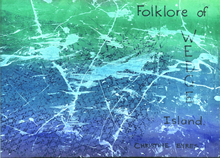 Cover of student project
Folklore of Wedge Island
by Christine Eyres, 1998.
Margaret Fowler's Glen Forrest Project
Included in the collection of student fieldwork projects is Glen Forrest: Proud to Belong by Margaret Fowler (1996). Her collecting in this area is an important record of community identity in Glen Forrest and the project stands out as a high quality example of the fieldwork of undergraduate students enrolled in the Folklore unit.
Margaret Fowler was inspired to follow this line of research due to the development of a village precinct plan for Glen Forrest in the Shire of Mundaring. The collected folklore in the project covers folk art, ghost stories, local buildings, dress, the local school and its surrounds, community events and inter-village rivalry. Margaret also conducted oral history interviews with 7 local residents from a range of age groups to explore perceptions of the community and its environment.
View the series record for the fieldwork projects in the digital archive where you can look at the files and items relating to this series.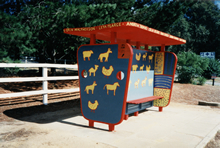 Image of a painted bus shelter in
the Glen Forrest area.
From Margaret Fowler's student
fieldwork project, 1996.
Collect Yourself Questionnaires
Students enrolled in the folklore unit between 1985 and 1991 usually completed a self administered 'Collect Yourself' questionnaire. It provided students with the opportunity to explore and record their own folklore beliefs and experience as preparation for the information gathering of folklore they undertook in the field.
The Archive contains more than 100 of these questionnaires. The respondents range in age from their late teens to 50+ years and come from a range of ethnic and cultural backgrounds. The genres of folklore collected in these surveys include general customs and beliefs, child-lore, adult-lore, jokes, songs, biographical narrative, children's rhymes, slang, riddles, reprographics, poetry, omens, luck, stories, remedies, games, recipes, dances, foodways, medicine, divination and drinking customs.
View the series record in the digital archive where you can look at the files and items relating to this series.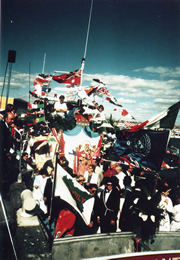 Image from student project
Fremantle Fishing Festival
by Lyn Le Provost, 1989.