About Graham Seal
Professor Graham Seal established the WA Folklore Archive in 1985. He is Professor of Folklore at Curtin University teaching within the Australian Studies program and post-graduate studies in Australian Folklife.
Professor Seal is the Director of the Australia-Asia-Pacific-Institute (AAPI), Director of the Australian Folklore Research Unit (AFRU) and Deputy Director of the Australian Regional Research Unit. He is the founder and convenor of the Australian Folklore Network and is on the editorial board of the Journal of Australian Studies, Australian Folklore, Journal of Australian Naval History and Perfect Beat.

His key research interests relate to comparative folk tradition and mythology, cultural history, and representations of national, ethnic, regional and local identities. His publications include the seminal work on the academic study of folklore in Australia, The Hidden Culture: Folklore in Australian Society (Oxford University Press, 1989). He was joint editor, with Gwenda Beed Davey, of the Oxford Companion to Australian Folklore (Oxford University Press, 1993) and the Encyclopedia of Folk Heroes (ABC-CLIO, 2001).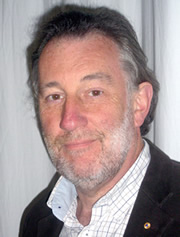 Professor Graham Seal,
Director of AAPI and the AFRU.
Photograph courtesy of
Graham Seal.
Professor Seal is an Australian and international authority in the field of folklore; he toured China as a guest of the Chinese Folk Literature and Art Society in 1988 and was invited as a 'Distinguished International Scholar' to the American Folklore Society Centennial in 1989.

Professor Seal co-founded Black Swan Press in 1992 and was publisher of the Press from 1992 to 2002 and again in 2007.

In 2007 he was awarded a Member of the Order of Australia 'for service to the preservation and dissemination of Australian folklore, particularly through a range of academic, editorial and research roles'.

For further information on Professor Seal's research activities visit his staff profile on Curtin's Faculty of Humanities web site.