Background to Australia's growing concerns

When Tatsuo Kawai's liner, the Canberra Maru, made its Australian landfall off the Queensland coast on 11 March 1941, the new Japanese envoy faced the enormously difficult task of placating Australian fears and attempting to rebuild slackening trade between the two countries.

'Words only a father could teach: turn adversities into jewels', Kawai wrote during the voyage to take up the post of Japan's first Minister to Australia - effectively the role of ambassador. 1

Kawai arrived at a time of severely strained diplomatic relations. In September 1940, Japan had aligned herself with Australia's enemies, Germany and Italy, by signing the Tripartite Pact which created the Axis Alliance. Coinciding with the signing of the Pact, Japan had moved into northern Indochina in 1940 on the pretext of stopping war supplies reaching nationalist forces in China. Japan had invaded China and was attempting to subjugate the entire country. The occupation of northern Indochina excited renewed concerns about a possible southward thrust by Japan. 2

At this time, the bulk of Australia's permanent defence forces were overseas fighting alongside the British in the Middle East and elsewhere against the German and Italian forces.
Kawai was 52 when he travelled to Australia. He had been the outspoken official spokesman for the Japanese Foreign Ministry in Tokyo in the late 1930s. He had praised Chancellor Hitler and condemned President Roosevelt. As official foreign spokesman, he didn't hesitate to threaten the use of armed force if the situation demanded it.

Kawai published a book in 1938, The Goal of Japanese Expansion, which justified Japan's role in subjugating China while predicting a new leadership role for Japan:

'Japan is the pioneer of a new age; she is the hope of a new Asia.'
Kawai's book created anxiety in Australia by stating:

'Nations with rapidly growing populations and inadequate resources have a far more legitimate claim to the world's remaining unexploited areas than those nations which already enjoy the blessings of abundance.'
The Sydney Morning Herald described Kawai's literary work as performing the world a service by clarifying Japan's aggressive intentions.

Kawai was often referred to in Japan as a fiery, militant character. Yet he also proved to be an independent thinker who often disagreed with his superiors - at one stage leading a strike in the Foreign Office. He encouraged his staff to debate issues and policy, rather than always following the official line. 3
In 1940, Tatsuo Kawai was Japan's roving ambassador in Europe, including Nazi Germany.

At this time, worried about Japanese aggression and its implications, Prime Minister Robert Menzies (later Sir), leader of the United Australia Party, had appointed Australia's Chief Justice of the High Court and former Government minister, Sir John Latham, as Australia's first Minister (also effectively ambassador) to Japan. The process had been started by Menzies' predecessor, Prime Minister Lyons, with strong support from Curtin.

Lyons, Menzies and Curtin wanted more direct information from Japan, rather than relying completely on the British legation in Tokyo for intelligence. Following the announcement of Kawai's posting to Australia, Latham told Canberra that the new ambassador would be under no illusions as to the possibility of Japan going to war with Great Britain without also going to war with Australia. But Latham thought the appointment augured well:

'I think it will be found that if Mr Kawai is treated in a friendly manner, he will be glad to reciprocate.' 4
Prime Minister Menzies, speaking in London on March 3, 1941, said war with Japan was not inevitable. He added: 'We are about to receive from Japan a noted diplomat [Tatsuo Kawai] whose arrival in my country will be a token of honour and respect paid to us by Japan.' He said the Australian Government, and no doubt the Japanese Government, had told their ambassadors to say: 'Let us get together and discuss what problems exist and let us get to understand each other.' Mr Menzies said there was 'no difficulty which could not be resolved by the utmost frankness' between nations.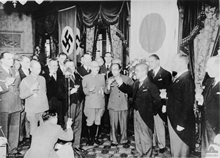 Tokyo, Japan. 1940-09.
General Hideki Tojo (centre) proposes
a toast with the German and Italian Ambassadors to Japan and officers
from the Japanese Ministry of Foreign Affairs. The occasion was the signing
of the tripartite pact, a defence agreement between Japan, Germany and Italy.
Courtesy Australian War Memorial, P02223.001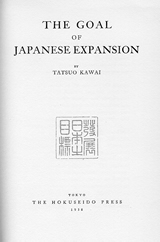 Cover of: Kawai, T. The goal of the Japanese expansion. Tokyo, The Hokuseido Press, 1938.
JCPML00453/328.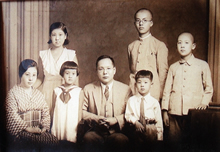 Tatsuo Kawai with his wife Tomiko and their children, Setsuko and Kiyoshi (front row) and Keiko, Taro and
Masumi (back row), n.d.
Photograph from the Kawai family collection at Manazuru.
JCPML01224/10.
Japan's iron ore interest in Australia
Japan had long desired access to Australia's iron ore deposits for her steel mills.

In the late 1930s, before meeting in person, Opposition Leader John Curtin, then keen to appease Japan, and Tatsuo Kawai agreed about the proposed exploitation by Japan of significant deposits of iron ore at Yampi Sound north of Derby in the north of Western Australia.

Kawai wrote in his book in 1938 of the 'good prospects' for iron ore mining in Australia. But as the book was being distributed, Prime Minister Joseph Lyons unexpectedly banned iron ore exports from Australia on the pretext that Australia's iron ore reserves were 'so limited as to compel their conservation.' Lyons in fact feared Japanese territorial interests in Yampi Sound. The secretary of the Defence Department, Frederick Shedden (late Sir), then had warned:

'Any foothold ... in Australia by Japanese interests will give rise to future political difficulties with Japan, and possible interference by that country on the grounds of 'protection of national interests', which has been the basis and justification for her actions in Korea, Manchuria, Jehol and China in recent years.'
In May 1938 Curtin said there was no more reason for refusing iron ore than any other commodity which might strengthen Japan economically. In his conundrum of appeasement, Curtin thought that trade embargoes might pressure Japan into conflict:

'I acknowledge that iron ore may be used for the manufacture of munitions and for aggressive purposes by warlike countries ... but such action [to ban mining and export] carries with it also a definite danger to the peace of the world.'
In Tokyo, as foreign spokesman Tatsuo Kawai said it was 'unthinkable' that pressing circumstances could compel Australia to take such a drastic measure as a ban on iron ore exports. His agreement with Curtin about iron ore and the prevention of war would be re-visited when Kawai came to Australia.5
An atmosphere of Australian appeasement
The appeasement of Japan knew few political boundaries in Australia in the late 1930s and early 1940s. With Australia already heavily involved in the war in Europe, the Middle East and the Mediterranean, and with the nation's defence preparedness at home in a sorry state, war with Japan loomed as something to be avoided, almost at all costs.

Both Prime Minister Robert Menzies and Opposition Leader John Curtin, prior to Kawai's arrival in Australia, made statements appeasing Japan.

Curtin was a pacifist in younger years and a leader of the anti-conscription movement in Australia during the First World War. After a trade war with Japan in 1937, Curtin warned Parliament:
'It is in Australia's highest interests to remain in the best possible terms of goodwill with so important a neighbour in the Pacific.' 6
In Parliament in May 1939, the year after the Japanese 'Rape of Nanking', Curtin expressed hopes for 'a revival of the spirit of goodwill' between Japan and Australia:

'We desire to live in peace with our neighbours in the Pacific, who are north of the equator. Insofar as the problems of the Pacific are concerned, we have no quarrel with the people of Japan ... We lay it down that what they do is their business and we feel that Japan will fully reciprocate in this connection.' 7
During Japan's subjugation of China, waterside workers in late 1938 had banned the loading of pig iron bound for Japan, concerned that the ore could be used in the manufacture of weapons. As then Attorney-General, Robert Menzies had taken legal action against the watersiders, forcing them to load the ships.

In December, 1939, Menzies, now Prime Minister, wrote to the Australian High Commissioner in London:

'I feel no doubt that it is most desirable that every effort should be made to offer Japan some way out of her Chinese position because any temporary collapse in Japan might have extremely dangerous results...' 8
Australia continued to trade with Japan through the late 1930s into 1940, when sanctions, proposed by the United States and Britain, were gradually imposed as a means of pressuring Japan to desist from her war in China. But the actions of Britain and its dominions including Australia were inconsistent and piecemeal. Governments were afraid of offending Japan.

In November 1940 Prime Minister Menzies wrote confidentially to a British official:

'...we have grave doubts about the wisdom of announcing a policy which might appear to be aimed at impairing the supply of foodstuffs in Japan for her civil population.' 9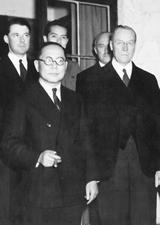 Tatsuo Kawai hosting a lunch
at his Tokyo home for
Sir John Latham and his staff, 1940. JCPML01224/52.
Courtesy of the National Library of Australia, MS 6409/Folio album.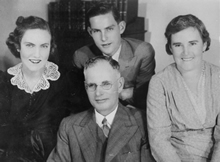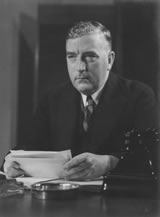 Joint Fadden-Curtin warnings on Japan
Curtin's appeasement of Japan began to dissipate in February 1941 - the month before Kawai's arrival in Australia. Curtin doubted the wisdom of not speaking out about potential aggressors, noting the Allied experience with Germany.

The issue came to a head at the Advisory War Council meeting which began on 5 February, two weeks after Prime Minister Menzies had left for overseas. The Council was under the chairmanship of acting Prime Minister Arthur Fadden (later Sir). The meetings allowed the Opposition to participate in important decisions on national defence and security. Curtin, often leading the debate, enjoyed a strong rapport with Fadden, who later would say of Curtin:

'His approach was one of responsibility to the nation, regardless of narrow party implications.' 10
Soon there were indications in London, confirmed by Prime Minister Menzies who was there, that British policy - mindful of the threat to Britain herself - was tending towards abandoning Australia should Japan move southward.

In February 1941 Curtin and the acting Prime Minister, Arthur Fadden, agreed that a special meeting of Parliament should be called to discuss the Japanese threat. Fadden had produced cables from the Dominions Office in London suggesting that Japan might already have decided to push further southward at the risk of war.

The Army Minister, Percy Spender, had recently returned from a tour of Malaya with alarming stories of defence weaknesses in Singapore. Fadden noted that the US had not committed itself to any firm course of action and indeed demonstrated extreme reluctance to do so. 11

Fadden and Curtin jointly issued a strong press statement saying the war 'had moved to a new stage involving the utmost gravity' and called for 'the greatest effort of preparedness this country has ever made'. Both Fadden and Curtin were criticised by some of their own party colleagues for issuing the joint statement. Fadden replied by saying that Australia was 'in danger of hostile action near, if not on, our coastline'.

The public comments angered the Japanese Consul General in Sydney, Masatoshi Akiyama, who told Fadden that he could not understand the statements. Even though Japan had not been mentioned by name, the inference was clear, as Fadden later admitted.

The joint warning was based in part on cables about Japanese troop and warship movements. It was agreed that Australia's armed forces should be put on a war footing in preparation for full mobilisation if needed.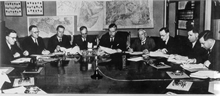 Advisory War Council 1940. Records of the Curtin Family. JCPML00376/71.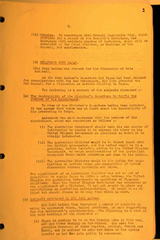 Sir John Latham and the Advisory War Council discuss relations with Japan.
Click to view large size images.
Minutes of the Advisory War Council Meetings, vol. 1, minute no. 4, 1940,
pp. 2-3,
Courtesy of the National Archives of Australia, A5954, 812/1.


The prospect of Britain abandoning Australia
Cables received in Canberra from the Dominions Office in London and from the Australian Legation in Washington also had raised the possibility of Australia being abandoned by the great powers. Menzies in London made speeches downplaying the warnings of Fadden and Curtin. But later, writing from London, he acknowledged a defeatist trend there, saying the British Foreign Office had adopted 'a fatalistic attitude' towards relations with Japan.

Fadden as acting Prime Minister was alarmed at reports from the US:

'These messages advised us that President Roosevelt left a doubt as to whether the United States would enter the war if Japan attacked only Dutch or British possessions. The President had also indicated that even if America was involved in war with Japan, he felt that to fight an active war in the Pacific would be a dangerous diversion of forces from the main theatre of operations...' 12
On 14 February at the War Council, Curtin declared that Australia was 'passing through a critical period of imminent danger'. Curtin dominated the Council meeting. In welcoming the British Far East Commander-in-Chief, Air Chief Marshall Sir Robert Brooke-Popham, Curtin acknowledged Britain's difficulty in holding off Germany in the following three months during which time Japan might attached in the Far East. 13