The fleeting resurrection of Kawai's career
Tatsuo Kawai's politics were considered 'safe' by the American occupiers of Japan and his career suddenly was resurrected. On 13 September 1945, Kawai was appointed head of the Information Board controlling Japan's media. Then on 9 October he was sworn in as Vice Minister for Foreign Affairs. But his natural rebelliousness and radical traits soon began to show with his appointment of senior officials to the Foreign Office from both the far left and the far right of politics. This disturbed the American occupiers. Kawai just as suddenly was pressured to resign by his friend Prime Minister Shigeru Yoshida after only 36 days as vice minister. 47

Returning to his retreat at Manazuru, Kawai harvested the tangerines, wrote beautiful tanka and rededicated himself to re-establishing trading relations with Australia as president of the Japan Australia Society. His organisation gradually became a powerful lobby backed by emerging industrialists and traders. But Kawai's task would take years as Japan struggled to rebuild its shattered industries and infrastructure.

In Australia in 1949 Robert Menzies, now leader of the Liberal Party, defeated Curtin's Labor Party successor as Prime Minister, Ben Chifley. Menzies was aware that trade with Japan would become essential, but was careful about getting ahead of post-war Australian public opinion when the memories of the war with Japan were still fresh.


Alleviating the hatred and suspicion
Prime Minister Menzies visited Japan for the first time after the war in 1950. Kawai sent him a letter in Tokyo pleading for the restoration of trade with Japan, correctly predicting a huge potential for exports from Australia, especially wool, wheat and meat. Kawai promised to do everything in his power to alleviate what he termed 'the hatred for the Japanese in Australia':

'Although it will probably take time and perseverance, I am determined to do my part in filling up this gulf, even if I must do it one shovelful at a time.'
Kawai's previous contacts with Menzies produced a positive reaction. Menzies made an unplanned and unpublicised journey to visit Kawai at his retreat at Manazuru, where the two privately discussed trade between Japan and Australia. Australia signed a Treaty of Peace with Japan at San Francisco in 1951, but trade then was still a trickle.

In April 1952 when the Japanese nation was celebrating the end of the US Occupation, Tatsuo Kawai boldly advocated a full resumption of Japan-Australia trade, 'thus giving Japan the lesson that peace pays', as he put it in a controversial article in the Japan News. Kawai brazenly urged that Japan be granted what she had nearly achieved before the war - access to the Yampi Sound iron ore in Western Australia. But memories of the war were too strong in Australia. A Sydney Morning Herald special correspondent in Tokyo interpreted Kawai's words as having 'an undertone of menace' and believed that his blatant request 'may even raise some smiles of derision.'

Significant trade between Japan and Australia was still five years off. It began its incredible boom after a landmark agreement on commerce was signed in 1957. Menzies visited Japan in that year and publicly hailed Tatsuo Kawai in Tokyo as his 'old friend.' 48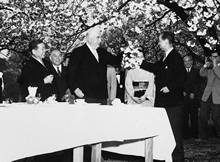 Memories of Curtin: a return to Cottesloe
Tatsuo Kawai in 1959 visited Australia for the first time since the war. Arriving at Darwin, he told reporters that he was 'Rip Van Winkle - dreaming of Australia for 17 years':

'John Curtin was one of my best friends. I have not forgotten your country and I have never forgotten John Curtin. This has been my first chance to come back. I am making a special flight from Melbourne to Perth to see Mrs Elsie Curtin who was very good to me. Her husband was a wonderful man.' 49
Kawai met both Prime Minister Menzies and Curtin's former foreign minister, Herbert Evatt, who had become Leader of the Opposition.
He then flew to Perth and dined once again at the Curtin family home at Cottesloe. Curtin's widow Elsie took Kawai to Karrakatta cemetery where he knelt on the grave of the former prime minister, prayed and wept. He then went surfing with the Curtin family at Cottesloe beach. 50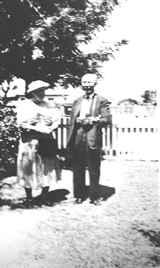 A diplomat's dream fulfilled
Kawai had advised his son Masumi to play a role in developing Western Australia's iron ore exports, according to Masumi Kawai:

'... he told me that Australia is a vast country, and has rich resources, a natural resources country, and said "You should try to go to Australia". Huge iron ore deposits were discovered in Western Australia. That is the starting point of my iron-ore business with Australia.'
Masumi Kawai became general manager in Australia for the Mitsui company, a partner in large mines at Mount Newman and Robe River. Masumi Kawai became a frequent guest at the Curtin house at Cottesloe, recalling: 'Elsie told me once, your father; so much like my husband.' Elsie Macleod, daughter of Elsie and John Curtin, and her husband visited the Kawai family in Tokyo in 1960. For years, the two families exchanged regular greetings and small gifts. Elsie Macleod died in 2009.

Masumi Kawai, who died in 2008, had remembered his father being unambiguous about his friendships:

'Well, he didn't tell me why he loved Australia, loved John Curtin and loved Elsie Curtin, but he did.'
On his death bed in hospital Tatsuo Kawai had his old friends around him. According to one, Taijiro Ichikawa, he continued stressing the importance of the Japan-Australia relationship. Kawai died on 31 October 1966 and at his memorial service, a book with a photograph of an Australian drover on the cover graced the altar at the Buddhist temple. 51

Australian politicians on both sides of the House of Representatives had a history of appeasing the Axis powers. Some realised the dangers before others. In February 1941, Curtin, then Opposition leader, persuaded Acting Prime Minister Fadden to join him in issuing urgent warnings about Japan. As the immediate threat of war neared, Curtin's appeasment of Japan finally ended.
Was Curtin's relationship with Kawai naive or inspired and is there a lesson to be learned? Historian Michael McKernan in a 2006 review said he had 'tossed and turned' trying to fathom the relationship, finally suggesting:

'Curtin showed him [Kawai] spiritual qualities in his own character which, because they were so attractive, Kawai embraced in a life-changing reorientation.' 52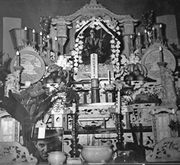 Altar at Tatsuo Kawai's memorial service, Honmonji Buddhist Temple, Ikegama 1966. Note the Australian book in the bottom left corner.
Photograph from the Kawai family collection at Manazuru.
JCPML01224/66.