War time role
Japan's entry to the war on 7 December 1941, however, put paid to any hope of John being home in Cottesloe for Christmas. The Daily Telegraph reported emotively on 'PM's first lonely Xmas'. 59 Yet, the PM's 'loneliness' was partly self-imposed. Just prior to Christmas, he had placed a ban on extended holiday leave, obliging employers to limit their employees' leave to a maximum of three days over the Christmas period.

Daughter Elsie, who had planned to take leave from her job as a WAGR clerk to spend Christmas with her father in Canberra, had to cancel her arrangements. Ironically, the ban was lifted on 3 January and normal annual leave arrangements were permitted to resume. 60 John finally took a few days leave to visit Perth after attending meetings of the War Cabinet in Melbourne in mid January.

He departed Melbourne for Perth on 21 January and was back in Melbourne on 1 February, thus the entire trip, including the train journey to and from Perth was only 10 days. 61 Even this brief respite attracted criticism from the Courier Mail, which declared on 23 January:

A battle on the frontier of Australia – in New Guinea; Australians fighting there as well as Malaya; the Prime Minister telling us that the menace of war to Australia is now "nearer, clearer, and deadlier than ever before";…. But the Federal Parliament, which has not met for more than a month, is still scattered all over the country, and the Prime Minister… is on his way to his electorate in Perth. 62

The Sydney Morning Herald also criticised Curtin for committing himself to 'his Western Australian tour', which was taking place 'during the week's most serious developments in the Pacific' – the attacks on Rabaul. 63

When these criticisms extended to the BBC commenting that he was 'holidaying' in Western Australia, Curtin responded that he was in Perth to deliver a highly confidential message from the Chief of Commonwealth Naval Staff to the Premier. Furthermore, 'where I am today is as much the Commonwealth of Australia as any other part of its territories … What I am doing in Perth is imperative work associated with my office'.

He also gave the BBC a serve for being 'too garrulous, and …very ignorant. Its presumption in broadcasting my whereabouts while I am engaged on essential national work is no service to security'. 64

Indeed, the program of the Prime Minister's engagements while in Perth suggested very little of leisure. How Elsie coped both with the carping criticism and the fact that John's brief time in the west was no holiday is not known, but, given her reputation for forthright comments, one can imagine what may have passed between husband and wife in the little time that they spent together.

Another of Elsie's important, but largely unnoticed, roles during John's frequent absences, was as 'electorate officer' for her husband. John had soon realized his wife's value in the electorate while he was attending to parliamentary duties in far-away Canberra. This value was greatly increased during the anxious days of the Pacific War, when the North West coast was under attack from enemy planes – and this was one reason why she spent so much time away from The Lodge in the years 1942 and 1943.

Yet, Elsie made no capital out of this, humbly insisting that, 'Some women are equipped for public life, while others are best suited for a domestic role. I'm one of those women who belongs in the home'. Consequently, her role has been little understood and seriously under-valued by the public at the time or afterwards. Historically, she has been criticised for not moving permanently to Canberra after her husband became Prime Minister.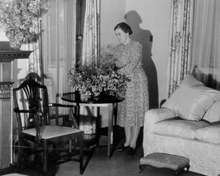 Mrs Curtin, "Home away from home", The Lodge, Canberra, 1941.
Records of the Curtin Family. JCPML00376/20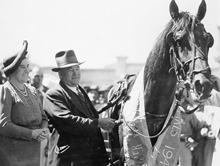 'Kollector', winner of the Sires Produce Stakes of 1944 Bred and owned by Mr J P Stratton, decorated with the Winning Sash by Elsie Curtin, Gloucester Park, February 26 1944.
Records of the Curtin Family. JCPML00376/158