Competing loyalties: Cottesloe versus The Lodge
Elsie was back in Melbourne in April 1942 to celebrate her 25th wedding anniversary with John at the Victoria Coffee Palace – a journey that she undertook with an injured foot. 65 Among the floral tributes was one from General Douglas MacArthur and his wife. On this visit, she remained in the Eastern States until the end of May, including spending time in Canberra and launching a navy vessel in Sydney. 66

After two months in Perth, she again made the trip across the Nullabor. The Curtins attended a 'patriotic' ball in Brunswick on 11 August and received guests along with the Mayor of Brunswick and his wife. 67 They then travelled to Brisbane.

During this trip, Elsie gave an interview for the Courier Mail and launched the navy corvette Fremantle. This interview repeated many of the familiar phrases, pointing out that Mrs Curtin was a behind-the-scenes person, whose 'main interest still centres on her home' despite the fact that her children were grown up. She expressed the conventionally-held opinion that women should not leave their children 'in the care of others', even to do war work, and was somewhat prophetic in forecasting that 'all these girls and women who are doing war jobs' would be glad to get back into their homes once the war was over. 68

She attended a number of social functions on the trip and appears to have charmed all whom she met – unlike her unfortunate husband who was accused of letting 'temper and prejudice run away with his tongue' and 'descending into party politics' in a way unbecoming to a leader trying to instil national unity into the people. 69 Just before the Curtins left Brisbane, the city experienced its first air-raid alert, and they were directed to a shelter at South Brisbane railway station. 70

On their way through Sydney, the Curtins attended a function to celebrate Dame Mary Gilmore's 77th birthday. Among the gifts was a pair of bed socks that Elsie had knitted on the train travelling across the Nullabor. 71

On their return to Canberra, Elsie remained at the Lodge until October. In September, her 'austerity hints' were recorded in the press, when she urged the women of Australia to turn 'kitchens into battlefields and sewing machines into weapons of war to fight the war against waste'. 72 She celebrated her 52nd birthday at The Lodge on 4 October 1942, before returning to Perth.

Despite criticisms then and later concerning her absences from Canberra, in the first year of Curtin's Prime Ministership, Elsie had spent over five months either travelling with John or living with him at The Lodge. In addition, Curtin was back in Perth in late October for a short break. On this visit, the press seemed to go out of its way to stress the importance of the Prime Minister visiting, and resting in, Western Australia. 73

Elsie did not return to Canberra until mid September 1943, but this is probably because John was home in Perth for a week in late April/early May and again for two weeks in August for the 1943 Federal election. 74 On this trip east, Elsie travelled with Senator Dorothy Tangney.

In an interview, given when she arrived at Adelaide, Elsie had said, with her usual forthrightness, that she always preferred travelling west to travelling east. 'I must confess that my family home at Cottesloe means much more to me than my political home in Canberra'. 75

Elsie stayed for about two months; during this time, she had a flight over Canberra in the Lancaster bomber 'Q for Queenie', which had been brought from Britain to feature in a fund-raising drive for war bonds. It was her first flight and she enjoyed it hugely. After viewing the Lodge and other Canberra landmarks from the air, she proudly disembarked with an unused sick bag, which Air Minister Drakeford, who had persuaded her to take the flight, inscribed, 'not required on voyage'. 76

Curtin was home for his 59th birthday on 8 January 1944. In keeping with the austerity drive, Elsie gave him no presents – not even a cake. Curtin spent the day quietly at Cottesloe, rising early to potter in the garden, before dealing with some official matters, and spending the afternoon walking on the beach. Throughout the day, the doorbell and telephone rang repeatedly as friends and family called or sent birthday wishes. 77 Elsie would have dealt with most of these callers and calls.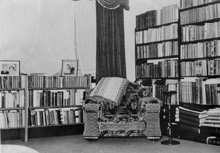 The front room, 24 Jarrad Street Cottesloe, 1943.
Records of the Curtin Family. JCPML00376/35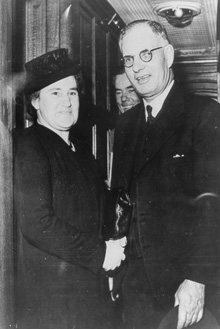 John and Elsie Curtin on route to Queensland for the launching of HMAS Fremantle, August 1942.
Records of the Curtin Family. JCPML00376/79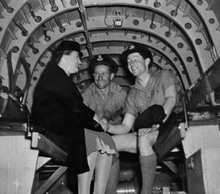 Mrs Elsie Curtin on board the Lancaster bomber "Q" for Queenie, 21 October
1943.
Records of Alastair Nicholson. JCPML00413/2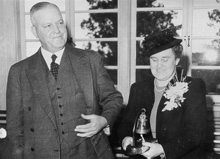 Elsie Curtin being presented with ship's bell - souvenir of launching of the HMAS Fremantle, August 1942.
Records of the Curtin Family. JCPML00376/203