Anti-conscription manifesto
In 1916, when the issue arose of conscripting men for military service with the Australian Imperial Force (AIF) in France, John Curtin was at a low point in his life, and between jobs. After an unsuccessful attempt to stand for the Victorian seat of Balaclava in the Federal election, suffering from depression and alcoholism generated by pressure of work, the advent of the war and a growing pessimism about the capacity of Socialism to reform the world, he resigned from his position as Secretary of the Timber Workers' Union, and served for a short time as an organiser for the AWU. [1]
The Congress of Australian Trade Unions held in Melbourne in May 1916 'steadfastly opposed both military and industrial conscription' [2] and set up an executive committee to organize an anti-conscription campaign, with E.J. Holloway as secretary and Curtin as organizer. Unfortunately, Curtin did not hold this post for long; exhaustion and alcoholism caught up with him. After failing to show up for a meeting of the Socialist Party Sunday School, which he was meant to be addressing, he admitted himself to a convalescent home. [3] Following his recovery, with conscription now a very real possibility, in July 1916, the Anti-Conscription Committee appointed him as its full-time national secretary. Although this seemed like a remarkable vote of confidence, according to E.J. Holloway, Curtin justified it by doing 'a wonderful job' and in particular because of the value of his journalistic experience. [4]
As the Censor had banned anti-conscription propaganda, including printing news of the campaign's activities, Curtin and his colleagues had to find other ways of getting their message across to the public. Labor Call printed the anti-conscription resolutions of the Melbourne Congress in a leaflet titled 'The Anti-Conscription Manifesto', which detailed reasons why Australians should reject conscription, including that conscripted soldiers would be forced to act as strike breakers and that workers would be placed under conditions of martial law. [5] In August, the Victorian police raided the Melbourne Trades and Labour Council premises, and seized copies of reports and the Manifesto. The Minister for Defence, George Pearce, who was a Labor Senator for Western Australia, sanctioned the raid. In Western Australia, a struggle had been going on in the labour movement, which was evenly divided between pro- and anti-conscriptionists. The ALP State Executive asked Pearce to explain his action, and emphasized the need for free speech. [6]
Although Pearce's bans and raids may have appeared to place insurmountable odds in the Anti-Conscription Campaign's path, according to Holloway, it was 'manna from heaven' because 'Indifference in many was suddenly turned to curiosity and interest. All [of] the world wanted copies [of the Manifesto]'. [7]
Election pamphlet, Balaclava 1914. Records of the Curtin Family. JCPML00376/62.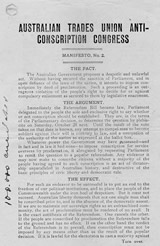 Flyer, Australian Trades Union Anti-Conscription Congress, Manifesto No. 2, 2 September 1916. Records of the Curtin Family. JCPML00398/7.
This copy of the flyer has a note written by John Curtin, '100,000 circulated'.