Commonwealth Bank Chambers, Murray Street
The first floor of the Commonwealth Bank Chambers at 242 Murray Street contained rooms for federal members and also included offices for the Organising Secretary of the State War Loan Committee and the Commonwealth Savings Bank, while the second floor accommodated the Commonwealth Attorney General, the Commonwealth Investigation Bureau, the Department of Supply and Shipping, and other similar bodies. 1
Federal members congregated there and Peter Ewing, Commonwealth roundsman for the Daily News, (also representing the Melbourne Herald and the Sydney Sun) used to 'go and see who was there and talk to anybody who was ready to be talked to. Because Mr Curtin was there … I just got to know him that way. … he was such a decent, nice man it was almost like going to see a friend in a way.' 2
Some staff including Gladys Joyce and Fred McLaughlin were required to travel with Prime Minister Curtin. Gladys Joyce made several trips to Perth but tried to share travel out among other staff. 3
John Curtin continued to use the federal members offices at the Commonwealth Bank Chambers when he visited his home State after he became Prime Minister.
He wouldn't come into the office every day … we'd either send things out to his home or he would call in now and again, but if there was anything urgent it would have to go to him straight away. But on the whole when he went to Perth it was to try and have a little bit of a break.
(Hazel Craig, stenographer in the Prime Minister's Office) 4

It was the first time that Western Australia had ever had a teleprinter installed and they wanted to take a photograph of me using the teleprinter – and that could not be permitted: security, security couldn't let them see that we had a teleprinter in Western Australia. … If the telephone lines went down well the teleprinter couldn't go either, so you were really very cut off if there was a bad storm.
(Gladys Joyce, Curtin's secretary) 5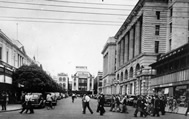 Forrest Place in Perth, 1949, showing the General Post Office and the Commonwealth Bank building.
Battye Library: Photo 816B/C/2547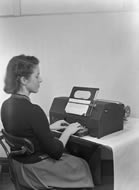 A teleprinter was first installed in Perth in the war years to facilitate communication. This photograph shows Miss Ina Kirby, telegraphist at the General Post Office in Brisbane from 1943 to 1952 operating a teleprinter.
National Archives of Australia: J2364, 1204
An office at home in Cottesloe for Prime Minister Curtin
Even when the Prime Minister scheduled 'a few days rest' at home, Curtin's Cottesloe house became an outpost of the office, as the Melbourne Herald reported on 26 August 1943.
For the first time in 22 months the Prime Minister (Mr Curtin) is having several days consecutive rest – as far as his official duties will permit.
He has cancelled all appointments, except to receive a daily visit from his private secretary. With him for an hour or two he scans cable messages keeping in touch with the latest war developments, and signs essential papers as Minister for Defence to keep the administration moving until the assembly of Cabinet.
By secraphone and teleprinter he is able to maintain constant touch with general headquarters, and with his department officials in Canberra and Melbourne. 6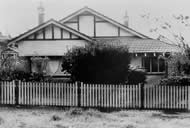 John Curtin Prime Ministerial Library. Records of the Curtin Family. Curtin house, 24 Jarrad St Cottesloe, 1943. JCPML00376/36