'Taken over' - Cartoon Interpretation
Cartoon by John Frith published in the Bulletin, 8 October 1941
(courtesy Frith family)
Click on the cartoon below to see a larger image.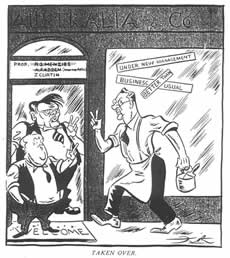 Context
Before you try the guided interpretation activities, here's some useful contextual information that will help you understand the political situation in Australia leading up to late 1941 when Curtin became prime minister. There's also some background about the cartoonist and the newspaper that carried the cartoon.
The newspaper: The Bulletin described itself in the 1940s as 'The national Australian newspaper' with the rider 'Australia for the white man'. It was generally pro-private enterprise and anti-union. In the war years it was particularly supportive of the Australian fighting male, including a lot of humour about Aussi soldiers and the Australian way of life in its articles and cartoons.
The cartoonist:
Born London, c1906, died Melbourne, Victoria, 2000
John Frith came to Australia in the midst of the Depression years. He drew cartoons for the Bulletin (c1929–44), becoming principal caricaturist and co-art editor with Ted Scorfield. In 1944, the Sydney Morning Herald decided to feature a daily cartoon and Frith took on the job, working with the paper until 1950. In 1950 Keith Murdoch invited Frith to join the Melbourne Herald where he worked for the next 18 years. He retired in 1969 but continued to draw cartoons and produce other works right up until his death in 2000. His cartoons are powerful, witty and insightful. He was also a skilled caricaturist, a sculptor and a colourful raconteur.
Information from obituary of John Frith by Ned Wallish in the Age, 7 November 2000.
Interpretation Activity 1
| | |
| --- | --- |
| Focus on | the building |
| | words on the building - 'Australia & Co.' |
| | the welcome mat |
What sort of building is depicted in the cartoon?

Answer

Why is there a welcome mat outside?

Answer

To what does 'Australia & Co' refer?

Answer
Interpretation Activity 2
Focus on
the names written immediately
above the doorway

'Prop: R . G. Menzies
A. Fadden (call me Artie)
J. Curtin'
Who is the new proprietor of Australia & Co.?

Answer

Why are the first two names above the door crossed out?

Hint
Interpretation Activity 3
| | |
| --- | --- |
| Focus on | the figure on the right |
Who does this figure represent?

Answer

How is this character depicted?

Hint

How does the cartoonist show that the new proprietor is really getiing down to business?

Hint
Interpretation Activity 4
| | |
| --- | --- |
| Focus on | the two figures in the doorway |
Interpretation Activity 5
Focus on
the words 'Under new management'
and 'Business better than usual'
Who do you think has put these words on the shop window and why?

Hint

What do the words and the way the proprietor is drawn tell you about how the cartoonist views the new prime minister?

Hint
Interpretation Activity 6
| | |
| --- | --- |
| Focus on | the caption 'Taken Over' |