Visit the JCPML
The JCPML is situated in Building 200A, Curtin University, Kent Street, Bentley, Western Australia.
Campus map
Map showing location detail for JCPML
The JCPML Reading Room is open Monday to Friday from 10am - 2pm or by appointment. The JCPML is located on level one of Building 200A. Researchers, Curtin staff and students wishing to request collection materials are advised to contact the JCPML prior to their visit. Reference services are offered to support and assist researchers.

Take a virtual tour
View the exterior of the building, foyer area, researchers' lounge and reading room by clicking on the map below. There are photographs of each area as well as a panorama of the exterior of the building.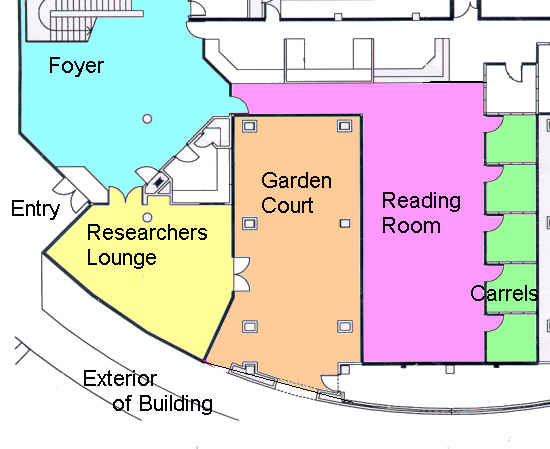 Visitor Parking at Curtin University
Visitor parking payment arrangements at Curtin University have changed. Before visiting Bentley campus please plan ahead and register for CellOPark.
In line with Curtin's vision of a greener campus, visitor car park ticket machines have been removed.
Pay by Plate meters are being installed in car parks D3, B13 and C1.
Visitors can also pay for parking using CellOPark Pay by Phone.
To register, visit www.cellopark.com.au or call 1300 46 7275 (1300 GO PARK). This is a one-off process and once registered, users can begin their parking session in three different ways:
• Phone - call +61 08 6145 3333 and follow the prompts
• Internet - visit www.cellopark.com.au
• Smart Phone - download the free CellOPark app.
A limited number of free, short term (45 min) parking bays are located around Bentley campus.
For further information about Pay by Phone parking, please visit the parking website.