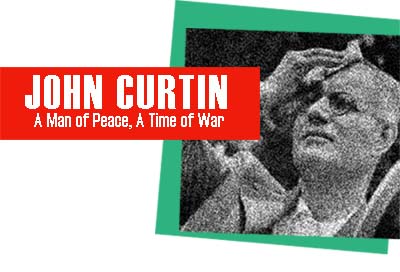 John Curtin was the Labor prime minister who led Australia through the darkest hours of World War II. He was the poor country boy who rose to become prime minister, the revolutionary young socialist turned political pragmatist, the pacifist called upon to lead Australia during wartime.
'Let us fortify ourselves for the grim days of struggle ahead.'
John Curtin, 11 November 1941
You are invited to visit John Curtin: A Man of Peace, a Time of War in this online exhibition from the JCPML featuring key material from the original exhibition.
'Walk through' the exciting panoramas to experience the exhibition in its original form.
Feeling adventurous? Try out the interactive quizzes and activities.




Developed by the National Archives of Australia in conjunction with the John Curtin Prime Ministerial Library (JCPML) to commemorate the 50th anniversary of Curtin's death, John Curtin: A Man of Peace, A Time of War opened in Canberra in 1995.
After travelling to various venues around Australia, it formed the major exhibition of the JCPML at Curtin University of Technology from 1998 to 2000.