Hazel Hawke was born in Perth in 1929, the younger daughter of James and Edith Masterson. She was educated at Mt Hawthorn State School and the Perth Central Girls School. Hazel loved school and enjoyed music, studying the piano. At age fourteen she left school and went to work at a small city electrical firm.

Playing the organ in the Subiaco Congregational Church brought her into contact with the pastor's son, Bob Hawke, and the young couple became engaged in 1949. When Bob travelled to Oxford to take up a Rhodes Scholarship in August 1953, Hazel followed in December of the same year, finding herself a job at the Institute of Statistics.
After their return to Australia, Hazel and Bob married in early 1956 and they moved to Canberra where Bob undertook doctoral studies in the law faculty and Hazel found secretarial work at the Indian High Commission.
The Hawkes lived in Melbourne from 1958 to 1983, where Hazel was busy with home and children and Bob worked for the Australian Council of Trade Unions, becoming president in 1969.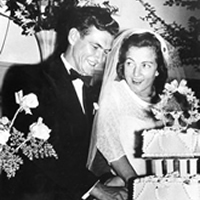 .

Hazel began voluntary work with the Brotherhood of St Lawrence in 1976, later taking on the job of secretary and personal assistant to the director of the social issues department and studying towards an associate diploma of welfare studies at the Caulfield Institute of Technology.

In 1980 Bob entered federal politics as the Australian Labor Party Member for Wills. Three years later he was leader of the opposition and after the Labor Party won office in the federal election of March 1983, Bob Hawke became prime minister of Australia.
Moving back to Canberra, Hazel Hawke lived in the prime minister's Lodge from 1983 to 1991, actively pursuing her interest in community work, women's and children's issues, music and the arts and becoming a strong and energetic leader in these areas. Among her numerous positions across a broad range of organisations, Mrs Hawke has been a Board member of the Australian Children's Television Foundation, National Patron of Greening Australian and the Patron of the World Wide Fund for Nature.

In January 1992 the Hawkes moved to Sydney to live and in December her autobiography My Own Life was published. She was divorced in 1995.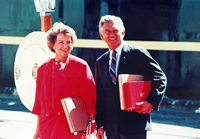 John Curtin Prime Ministerial Library. Photographs collected by Hazel Hawke Family. Hazel & Bob Hawke on the Royal Yacht Britannia, Port Adelaide, 13 March 1986. JCPML00425/256.

While perhaps achieving greatest prominence during the period of her ex-husband's prime ministership, Mrs Hawke has always worked independently and become involved in important social issues.  Mrs Hawke has been Chair of the NSW Heritage Council, and also participated in Aboriginal Reconciliation and the Constitutional Convention. Hazel was declared a 'Living National Treasure' by the National Trust and recognised by the Australian Labour Party for her active membership.
In July 1999, Mrs Hawke presented the JCPML Anniversary Lecture 'In search of the light on the hill'.

As part of her strong interest in and involvement with community and social issues, Mrs Hawke worked with the John Curtin Prime Ministerial Library to instigate the Hazel Hawke Scholarship at Curtin University in 2000. This annual scholarship is available to mature age applicants whose finances would not normally allow them to study at university. The scholarship is awarded on the basis of financial need, academic potential and commitment to community and social issues.
In 2001 Hazel Hawke was awarded an Order of Australia. The citation read, 'For services to the community, particularly through the promotion of the reconciliation process, support for continued improvement in the quality of children's television, as a contributor to the preservation of heritage items, and involvement with environmental and wildlife preservation groups.' (Pieters-Hawke, 2001, p. 384)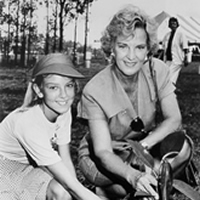 John Curtin Prime Ministerial Library. Photographs collected by Hazel Hawke Family. Hazel Hawke and schoolgirl planting a tree, Queensland, 1989. JCPML00425/246.



On 14 March 2006, Curtin University awarded Mrs Hawke with an Honorary Doctorate of Letters in recognition of the significant contribution she has made to the University, the community and to the field of learning. In particular, the university cited her advocacy for education, particularly for women and Indigenous people.

In November 2003 Mrs Hawke released a press statement revealing she had Alzheimer's disease. The Hazel Hawke Alzheimer's Research and Care Fund was created in conjunction with Alzheimer's Australia.
"Practically speaking, I hope to help raise much-needed funds by establishing the Hazel Hawke Alzheimer's Research and Care Fund. I have done this together with Alzheimer's Australia. We will use the money you donate to assist on-going research into the prevention and management of Alzheimer' disease, and to help provide crucial services to people and their carers living with dementia. I urge you all to contribute generously to this Fund."  - Hazel Hawke (November 2003).
Hazel: my mother's story was published by Sue Pieters-Hawke in 2011.
Hazel Hawke died 23 May 2013.