Captain James Cook was born in 1728 and died in 1779. Among his many achievements as a navigator and explorer, he was the first person to map Newfoundland, the first European to have contact with the Eastern coastline of Australia and the Hawaiian Islands and he completed the first recorded circumnavigation of New Zealand. Cook charted and recorded several islands on European maps for the first time. He charted large areas of the Pacific more accurately and gathered accurate longitude measurements during his first voyage. Cook was accompanied on board by many scientists, including botanists Joseph Banks and Daniel Solander who collected over 3,000 plant species, and artist Sydney Parkinson who completed 264 drawings of immense scientific value to British botanists. The observations and discoveries of these learned companions added to the importance of the voyages. 94

The ten years that cover Cook's three great voyages are well documented in his comprehensive logs and journals. Cook detailed in his written work where he went, what he saw and who he met but these works do not offer any insight into Cook as a person.
Cook was the son of a farm labourer, and the second of eight children in his family. When the family moved to Great Ayton in 1736, his father James arranged a job for Cook through his employer, Thomas Skottowe. The job was in a shop on the North Sea coast and this location introduced him to the sea. His employer at the shop was William Sanderson, who knew a family of ship operators in Whitby and Cook became an apprentice there. 95
From Whitby, Cook worked on the colliers sailing in the North Sea coal trade and learned the skills of seamanship and navigation. In fact, his ship the Endeavour, was originally a collier. In 1755 he was offered command of a collier, but declined and enlisted in the Royal Navy as an able seaman. He served with the Royal Navy from 1755 to 1767, patrolling the English Channel and taking part in the capture of several French ships.
In 1757 he became a ship's master and eventually ended up on the Pembroke which played a part in the war against the French in North America. During this time, Cook was in Canadian and Newfoundland waters. His ship took part in the siege of Louisbourg in 1758 and in the capture of Quebec. Cook developed his surveying and cartographical skills and spent time in Nova Scotia on the HMS Northumberland. 96

The Governor of Newfoundland appointed Cook as surveyor of the island and to chart Newfoundland's lengthly coastline. He was assigned a small schooner, the Grenville.
Over the years, Cook added astronomy to his various skills and submitted the results of his observation of a solar eclipse on the south coast of Newfoundland to the Royal Society of London. The Royal Society had petitioned the British government and the Admiralty to send astronomers on a ship to observe the Transit of Venus in 1769. 97 It was believed that if the planet Venus could be observed as it passed across the sun at the same time and from different locations, it could then be possible to calculate inter-planetary distances, such as the distance of the earth from the sun. 98 The Admiralty acquired an ex-collier ship, renamed her as the HM Bark Endeavour and prepared her for an expedition to Tahiti in the South Pacific to observe the Transit of Venus. Cook was appointed to command the expedition and to serve as an assistant to Charles Green the ship's astronomer. Cook was promoted to lieutenant for the voyage. A secondary goal for the expedition was to search for the Great Southern land mass, thought to lie across the South Pacific, below 40°S. 99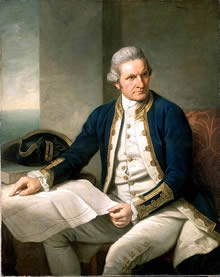 Portrait of Captain James Cook
by Nathaniel Dance, c. 1775
Courtesy Wikipedia
The Endeavour left Plymouth on 26 August 1768, reaching Tahiti in April 1769. The crew stayed in Tahiti for three months, observing the Transit of Venus. Cook toured and surveyed the island, writing detailed descriptions of the island and its people. Next, the Endeavour began, unsuccessfully, to search for the Southern Continent. The Endeavour returned to the UK on 13 July 1771, after a voyage of almost 3 years. The return was anticipated by the public and the Navy but the acclaim was directed to Joseph Banks. Cook was promoted to Commander and had returned to Britain with charts of Tahiti, New Zealand and the coast of Australia. Banks had brought back botanical and zoological specimens and artists' drawings. While the Transit of Venus was observed successfully, the existence of the Great Southern continent had not been resolved. 100

Cook submitted plans for a second voyage to settle the matter of the Great Southern continent. The Admiralty agreed to Cook's proposal and on the second voyage he took two ships for safety reasons. Both were ex-colliers, Cook was in charge of the Resolution, and Tobias Furneaux commanded the smaller ship Adventure. Cook took chronometers with him, one of which was a copy of a John Harrison chronometer that would revolutionise navigation. He sailed from Plymouth in July 1772 and returned to Britain in late July 1775. During this second voyage, he became the first to cross the Antarctic Circle. Crossing the Pacific without sighting land, he laid to rest the myth of the Great Southern landmass and returned with a quantity of journals and charts which represented surveying and cartography of the highest order. Despite the disaster of the Adventure which saw members of a shore party killed in the Pacific, Cook consolidated his position in the Admiralty and was now a celebrity beyond naval circles. 101

Cook's third voyage came from the need to return a Raiatean named Mai to his homeland. Mai had been brought to Britain by Tobias Furneaux. A secondary purpose was to investigate the existence of the Northwest Passage between the Pacific and the Atlantic. Again, Cook took two ships. He commanded the Resolution while Charles Clerke captained the Discovery. Cook left Plymouth in July 1776, travelling to the Cape of Good Hope, New Zealand, Tasmania, the Cook Islands and Tonga. They returned Mai to Raiatea in 1777 and headed up to the North Pacific, visiting the Hawaiian Islands and surveying the North-Western coasts of America from Oregon to Alaska. While in the Hawaiian Islands, Cook was killed during a fight. Clerke assumed command, but when he died of tuberculosis, John Gore brought the ships back to Britain in late 1780. During the third voyage, Cook described Tonga, Hawaii and the North West coast of America in detail; however he did not find the North Western passage. It is believed that Cook's age, poor health and tiredness on this trip caused the erratic behaviour that led to his death. 102

Cook's legacy was in defining the ocean's boundaries, visiting and charting most of the island groups of the Pacific and his greatest statement, the map of the Pacific Ocean. 103

Works by James Cook are available on Project Gutenberg at: http://www.gutenberg.org/browse/authors/c#a2644

The UK National Register of Archives have a list of archival material relating to James Cook and related holding institutions at: http://www.nationalarchives.gov.uk/nra/searches/subjectView.asp?ID=P6407


Terra Australia Incognita
The main goal of Cook's first voyage on the Endeavour was to transport observers to Tahiti to view the Transit of Venus. On the Endeavour voyage, Cook carried secret instructions to be read after he observed the phenomenon. These instructions authorised him to search for and take possession of a continent or great land mass thought to exist in the Southern Hemisphere. If this land was found, Cook was to chart its coasts, obtain information on the people and cultivate an alliance between the locals and Great Britain 104.

The unknown great Southern land mass was referred to as 'Terra Australis Incognita'. This imaginary land appeared on European maps from the 15th to the 18th centuries. The concept was first introduced in ancient times by the Greek cartographer Ptolemy and since Renaissance cartographers adopted Ptolemy's work as their main source of information, during this period the Great Southern Landmass appeared on maps. 105

Scientists of Cook's time argued that the landmass would act as a counterweight to the known landmasses of the Northern Hemisphere. Terra Australis Incognita was usually located on maps around the South Pole and spreading far north in the Pacific Ocean region. It was depicted as a larger continent than Antarctica and various explorers made attempts to locate it before Cook's voyages. 106
In his first voyage, Cook sailed south from the Society Islands and reached 40°S without finding land. He then headed west for New Zealand and circumnavigated the north and south islands, confirming that they were not part of a larger continent. Following this he visited Australia. 107

Cook embarked on his second voyage to settle the matter of the landmass once and for all, proposing to sail around the world at as high a latitude as possible. In 1772 he succeeded in circumnavigating the globe at as close to 60°S latitude as possible and in some places crossed the Antarctic Circle. This voyage proved that any possible Southern Continent must lie well within the cold and uninhabitable polar region. 108