On 26 April 1939 Robert Menzies won leadership of the United Australia Party and became Australian Prime Minister, following the death in office of Prime Minister Joseph Lyons and the nineteen-day caretaker prime ministership of Earle Page, Leader of the Country Party.
Just over four months later, on September 3, Prime Minister Menzies broadcast to the Australian people that the nation was at war:
Fellow Australians, it is my melancholy duty to inform you officially that in consequence of a persistence by Germany and her invasion of Poland, Great Britain has declared war upon her and that, as a result, Australia is also at war.
Personal glimpses of the PM in the press . . .
The press reported on the Prime Minister as a man of considerable presence.
Besides natural charm and courtly manners, Mr. Menzies has created for himself a sort of 'stage presence.' His voice is delightful to listen to in conversation, though in public it sometimes sounds querulous. ... He manages to look well groomed even after all-night journeys on trains, wears nice ties, good shoes on his small feet, and is very well tailored, though his build and his habit of lolling in armchairs must necessitate his suits going frequently to the cleaner's for pressing. ...
Mr. Menzies' morning suits, homburgs, cigars and sleek official cars tend to make us (some people say they make Mr. M. too) forget that he is still a 100 per cent. Australian citizen, the son of a general storekeeper at Jeparat, Victoria.
But some of his come-backs bawled out to hecklers at his election meetings were made in the healthy bellowing tone of any thorough Australian at a street meeting or a football match. 1



To walk down a Melbourne Street with ...[Mr Menzies] was almost a triumphal procession, with passers-by turning to call, 'God bless you, Mr Menzies!' or some similar salutation to the hat-raising big man. 2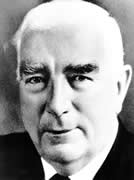 Prime Minister Menzies - a formal portrait
John Curtin Prime Ministerial Library. Records of the Government Photographic Service. Sir Robert Gordon Menzies, KT,PC,CH (1894-1978) Prime Minister 1939-1941, 1949-1966. JCPML00036/11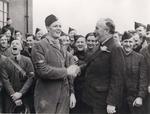 Prime Minister Menzies meeting pilots and ground staff and shaking hands with a sergeant of the Royal Australian Air Force at a Coastal Command station in the south of England, 1941.
National Archives of Australia: A5954, 1299/2 Photo 6688
Working in the Prime Minister's Office
Prime Minister Menzies inspired loyalty and respect from his personal staff and his 'kindness and good humour encircled and captivated those who served him most closely.' 3
N C Tritton, Private Secretary
Mr N C Tritton served as Private Secretary to Prime Minister Menzies, handling departmental matters and correspondence. Mr Tritton and Assistant Private Secretary Mr S Landau accompanied the Prime Minister on his overseas journey in the first half of 1941. Ensuring the travel arrangements went smoothly and communications were maintained was all part of the job and the accompanying staff were 'more than up to our eyes in work'. 4
Mr Tritton left the post in May 1941, when the Prime Minister granted him leave to take up a postion with the British Broadcasting Commission:
Tritton has been offered an appointment by the BBC as Pacific Intelligence Officer. As he would be able to do valuable work for Australia in this capacity it appears to me that we should second him to the B.B.C. for this purpose. 5
Eileen Lenihan, Secretary
Eileen Lenihan was private secretary to Prime Minister Joseph Lyons and continued working as confidential personal secretary to Robert Menzies during his prime ministership. 'Lennie' developed a great admiration for her boss and a thorough understanding of his work patterns - she 'knew his ways'. 6
As a stenographer, she had to take minutes of meetings such as those between the Prime Minister, the Minister for Defence, and all the Chiefs of Staff. Unlike Hansard staff, who rotated every ten minutes, she would go in and 'take shorthand verbatim right through until midnight' and would come out with her hands 'just stiff'. 7
As well, there were sometimes 'other duties as required'. These included liaising occasionally with Mrs Menzies regarding employment of staff at The Lodge. In July 1941, Miss Lenihan wrote to the Secretary, Department of the Interior, to organise that final salaries be paid, and tranport to the train station provided, for two maids who were ceasing work at The Lodge. 8
'Lennie' chose to go with Menzies as his personal secretary when John Curtin became Prime Minister instead of remaining in the Prime Minister's Department. Speaking of his time in opposition in the war years, Menzies noted that a non-ranking Junior Senator in the USA had a personal staff of over sixty, whereas he only had a staff of two, one of which was his 'devoted secretary', Eileen Lenihan. 9
Hazel Craig, Stenographer
Hazel Craig was a stenographer with the Prime Minister's Department from 1934, working for Prime Ministers Joseph Lyons, Robert Menzies, John Curtin and Ben Chifley. She had immense respect for the war time Prime Ministers in particular:
Mr Menzies and Mr Curtin and Mr Chifley I can say really had, I feel that those Prime Ministers really gave what they did for the benefit of Australia ... and you know it was worth working for them.10
In the Prime Minister's Department, Correspondence Branch, a Typist, Grade 3, could expect to earn between £250 and £262 per year in 1940. Duties included supervising the whole of the typing staff in the Correspondence Section, typing and shorthand as required by the Officer-in-Charge, ordering the stationary each week, drafting letters on files of minor importance and 'special work' when required. 11
Working hours
When war was declared in September 1939, the Prime Minister and his staff worked to all hours.
Well, naturally they were hectic times because there just seemed to be so much to be done in so little time and the War Cabinet used to meet at Victoria Barracks in Melbourne. It became.... took precedent over the general Cabinet because well, I've known them to work to meet at eight o'clock at night-there would be the Prime Minister and all the... like the Minister for Defence and Army and Navy and Airforce and the Chiefs of Staff of each of those services and go on until midnight. ... And of course in those days there was no such thing as junior such as I was in the office of getting a car to go home. It didn't matter if anything had stopped, so that you'd have to wait until the Secretary was ready and he or she would get a car and you'd then be taken home. So you know, you might be there until about two o'clock in the morning. But we well we took it all as I suppose as part of our war effort if it came to that. 12
Prime Minister Menzies worked a long day, but was generally not an early morning starter. Working late into the night, Menzies would often summon his personal secretary, Eileen Lenihan, to do some typing at 10 pm or even later. Staff adjusted swiftly to Menzies' working hours, and came to appreciate his 'extraordinary quickness' in reading and his ability to 'grasp at once the essence of a matter'. 13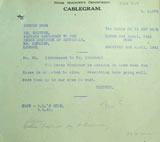 Cablegram from Mr Tritton to PM's Department, 2 April 1941, noting 'The Prime Minister is anxious to know when the House is expected to rise. Everything here is going well. More than up to our eyes in work.'
National Archives of Australia: CP290/9, 15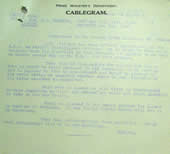 Cablegram from Robert Menzies to Acting Prime Minister Fadden, 8 May 1941
National Archives of Australia: CP290/9, 15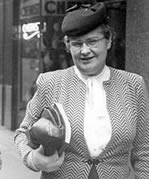 Eileen Gertrude Lenihan, OBE, former Private Secretary to Prime Ministers Joseph Lyons, Robert Gordon Menzies and others - in Sydney - 1940s.
National Archives of Australia: M3130, 156 (cropped image)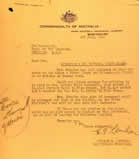 Letter from Eileen Lenihan to Secretary, Department of the Interior, 4 July 1941
National Archives of Australia: A431, 1952/796

Duty statement for Grade 3 Typist, c 1940.
National Archives of Australia: A461, R1/1/1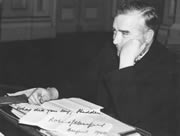 Prime Minister Robert Gordon Menzies, August 1940.
National Archives of Australia: A5954, 1299/2 Photo 3
Those who worked beyond the office
Paul Hasluck saw Menzies as 'essentially a shy man' who 'had a fence around what he regarded as his private property', opening 'the gate to very few persons'. Those few however included 'drivers, office workers, and other public servants', who all spoke of 'their boss's kindness, good humour and sense of fun.' 14
Dealing with the press
Menzies had little regard for journalists and 'the position in Canberra was that the Press Gallery rarely saw the Prime Minister during the Menzies regime, ... press conferences were a spasmodic affair'. 15
Political journalist Alan Reid recalls that Menzies developed an 'extraordinary rapport' with the representative of the Sydney Morning Herald, Eric McLoughlin, and they used to 'spend the bulk of Saturday mornings closeted together in the Cabinet anteroom', with the result that McLoughlin knew everything that was going on in government, while other journalists had to wait until the Herald's Monday column to find out what was happening. 16

Broadcasts and press statements were important in keeping the Australian public informed. Here, Prime Minister Menzies broadcasts the announcement that Australia is at war, 1939.
National Library of Australia: PIC/6524