'Young Jack (John) was one of the fairest and cleanest players in the game. As a boy he was honest, and would never take advantage of another's misfortune.'
George Chisholm, Brunswick Football Club Secretary [49]
Through his passion for cricket and football John Curtin gained appreciation for the importance of strength, strategy and in particular teamwork in confronting circumstances. Those characteristics are valued and have been valued by Australians. John Curtin served his country and team mates well in a time of world turmoil and gave his all. In all aspects of his private and political life, John Curtin exemplified the characteristics of 'a good sport'.
In political life the opposing team's Leader, Sir Arthur Fadden, of the Country Party, said of John Curtin's succeeding him in Government:
'In passing over the reins to Curtin I did so with the greatest confidence in his leadership abilities, his wisdom and his general capacity. Any man who has played football, whether it be Rugby (my old code), Australian Rules or Soccer will be at some time in a season have picked out a man from the opposing side to admire for his ability, clean play and general good sportsmanship - their "best and fairest".
The best and fairest I ever opposed in politics is easy to nominate - John Curtin.' [50]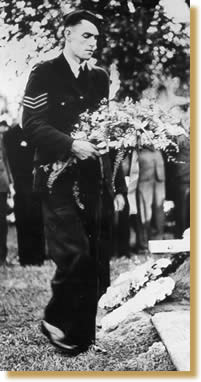 The loss of a father and a team mate - John F Curtin placing the family wreath on his father's grave.
JCPML. Records of the Curtin family. John Curtin Jnr placing the family wreath on the grave of his father, Prime Minister John Curtin, 8 July 1945. JCPML00376/240