John Curtin's association with Australian football endured in Western Australia. In the late 1920s he was on the WA Football League Umpires Board, [18] a role that would have suited his sense of fair play. He was also a member of South Fremantle Football Club, East Fremantle Football Club and Claremont Football Club. The three clubs were in his electorate and he took a keen interest in them all, again demonstrating his fairness and even-handedness.
Anne Spence remembered going to South Fremantle matches with John Curtin and her father:

'My earliest memories of John Curtin were with my father. My father was also a great Labor member and he was very close to John Curtin during his election in Fremantle. Also I can remember John Curtin, he was a great football fan of South Fremantle and every Saturday we'd go to the football and we'd stand together, my father, John Curtin and myself. He was always a very quietly spoken man. I could remember him wearing the glasses and long over coat and a hat pulled firmly down over his face and I don't think he really wanted people to know how hard he was barracking or who he was at the time. But he was a very well-spoken and well-mannered gentleman. They would be my earliest memories.
During the football I think my main job of being there was to keep an eye on my father who was a very loud barracker but Mr Curtin never raised his voice, he just sort of had that look on his face that was determined that they'd like them to win but he never really made a great deal of it. But I managed to keep the peace as much as possible.' [19]
At East Fremantle Football Club, John Curtin admired the performances of the half back, Ray Mudie who he described as an 'obstruction' to Mudie's old school master at Fremantle Boys' School, Dolph Heinrichs. [20]
Football Clubs were keen to celebrate John Curtin's victory also. In 1934 when he was preparing to go to a South Fremantle game the telephone rang. It was at this time that he was advised that he had won the seat of Fremantle. In the 1940 election expecting defeat again he went to the football, the results on the scoreboard read:
'Curtin has won Fremantle' [21]
In the Victorian Football League (now the Australian Football League) John Curtin followed the Fitzroy Football Club. His nephew Claude Curtin, who played with Fitzroy in the 1940's, was their leading goal kicker for a number of years. While Prime Minister he continued to follow his old club Brunswick's fortunes, and went along to other football matches in Sydney, Melbourne and Canberra. James Maher, a member of the Minister for Munitions and Navy's staff, remembered John Curtin taking him to games played between the defence forces: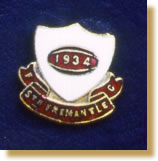 John Curtin's membership badge for
South Fremantle Football Club 1934, No. 101
JCPML. Records of John Curtin. Sth Fremantle F.C., 1934 No. 101 lapel badge. JCPML00287/9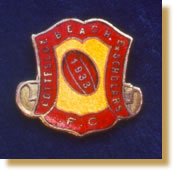 John Curtin's membership badge for
Cottesloe Beach Ex Scholars Football Club 1933, No. 38

JCPML. Records of John Curtin. Cottesloe Beach Ex Scholars F.C., 1933 No. 38 lapel badge JCPML00287/8