In the dramatic history of Australian-American relations during World War II, the Curtin-Roosevelt relationship is rarely given more than a minor bit part. This is hardly surprising. The two war leaders met only once, in April 1944, when both were clearly ailing. It was a time when most of the central problems of grand strategy had already been resolved. And their brief encounter only touched cursorily upon a few issues related to the likely contours of the post-war world. It was not the stuff of drama; not the material from which great legends are made.

For most of the war, rather than turn to the distant President, Prime Minister John Curtin relied on advice and support from General Douglas MacArthur, who was based in Australia for a long period after March 1942. In the large literature on World War II, it is these two men who invariably take centre stage. It was their close working relationship that helped to save Australia from the threatened Japanese invasion in 1942. And it was their efforts to solve the massive problems of homeland security, resource allocation, and military strategy during the first months of the Pacific War that have invariably preoccupied historians.

Yet the Curtin-Roosevelt relationship was significant. It might not be as eye-catching as the unlikely friendship between the drab socialist Prime Minister and the flamboyant conservative General. But the parallel careers of these two war leaders reveal important dimensions of Australian and American politics in the first half of the twentieth century. More importantly, their tense wartime relationship also sheds light on the two countries' differing conceptions of grand strategy, while their evolving visions for the post-war world demonstrate the pronounced areas of similarity that would play a role in cementing the Australian-American alliance that emerged shortly after their untimely deaths. In short, although always distant and often frosty, the interaction between these two men clearly did matter.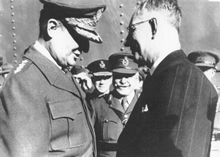 General MacArthur shakes hands with PM Curtin who had just returned from the USA, 1944.
Original held by MacArthur Memorial Library and Archives: [US Army Signal Corps] MML&A 9827. Records of Douglas MacArthur. JCPML00265/8.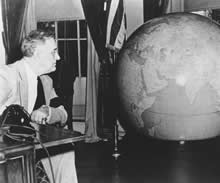 Franklin D. Roosevelt, 1942.
Image from: Casey, S. 2001,
Cautious Crusade: Franklin D. Roosevelt, American public opinion,
and the war against Nazi Germany,
Oxford University Press,
London, p. 86.