These developments portended two tragedies. In the short term, because both leaders were so ill they simply didn't have an opportunity in their brief meeting to resolve tensions and explore areas of agreement. Of course, this raises an interesting counter-factual question: what if they had been met for longer sessions, with more sustained focus on the crucial issues? It's a question that is difficult to answer with any great certainty, for the simple reason that the world was in great flux in the spring of 1944. No one could be certain when the war would end, let alone what the world would be like when the fighting finally finished. At this stage, all the leaders thus addressed post-war questions tentatively. They recognized that the ideas and visions they now had might easily need to be adapted in light of the conditions at the war's end.

Nevertheless, had Curtin made the trip earlier, when Roosevelt remained the dominant player in Washington, then it's likely that two men would have struck up a close relationship, not least because they shared similar visions. At the very least, they might have prevented the misunderstandings that had scarred relations over the winter 1943-44. 63 It was therefore a tragedy that their actual meeting came too late. Throughout Second World War, the U.S.-Australian alliance was established on the basis of hard-headed self-interest. While the Australians wanted American help to protect them against the Japanese aggressor, the Americans needed Australia as a base in the Pacific war. Beyond that, much divided the two powers: disagreements over strategic priorities, anger at a lack of consultation and misconceptions about each other's goals. Had Curtin been able to forge a stronger bond with Roosevelt, some of these tensions and disagreements might well have been muted or perhaps even resolved.
Indeed, close personal relations between leaders at the top often act as an important layer of adhesiveness to any alliance, binding two countries closer together. During the Second World War, however, this glue just didn't exist. As men of the left, both Curtin and Roosevelt agreed on many issues. But they never had the chance to discover just how much they shared.

In the longer term, moreover, the illnesses that afflicted both men in the spring of 1944 foreshadowed a more personal tragedy. As war leaders, Curtin and Roosevelt had each singled out one member of the Axis as the main enemy: for Roosevelt it was Germany, for Curtin Japan. But, tragically, both men died just weeks before the enemy they had worked long and hard to defeat finally surrendered. They were thus unable to implement any of the ideas that they had only so cursorily discussed in their one brief meeting in April 1944. Post-war policies, including the formation of a long-term Australian-American alliance, would have to await their successors.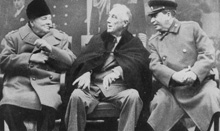 Yalta, Black Sea, USSR. 1945-02. British Prime Minister Winston Churchill, in a Caucasian black fur hat, with US President Franklin Roosevelt (showing evident signs of failing health) and Soviet Marshal Josef Stalin at the Yalta Allied Conference. Australian War Memorial Negative Number P02018.353.
Photograph of President Franklin Roosevelt's Funeral Cortege, 1945, White House photographs taken by Abbie Rowe, 1941-1967, Courtesy of the National Archives, ARC ID 593721.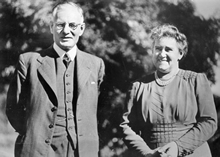 The last photo of John and Elsie Curtin together in the garden at the Lodge, 27 April 1945. JCPML00376/29.