John Curtin's first journalistic endeavour was published in the inaugural issue of the Socialist in 1906 when he was just 21 years old.
More than ten years later, in 1917, seeking a fresh start and an income which would enable him to marry, his writing brought him to Western Australia as editor of the weekly Westralian Worker, the local Labor Party newspaper.

John and Elsie Curtin with
their children, 1922. Records of the Curtin family. JCPML0004/9.
It was the midst of World War One and a critical time in Labor's history. Prime Minister Billy Hughes had just resigned from the Labor Party Caucus over the issue of introducing conscription and merged with the Liberals to form the Nationalist Party. The bitter split over conscription weakened the ALP-in the federal election Labor lost every Western Australian seat.
Curtin was a pacifist, but not passive. With the energy of an angry young man he tackled conscription head on-at the outbreak of war in 1914 he had set about organising the national anti-conscription movement and so strong were his beliefs that he spent three wretched days in jail in protest against enlisting.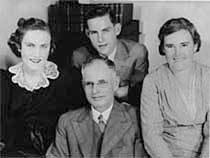 The Curtin family, 1938.
Records of the Curtin family. JCPML00376/18.
Upon moving to Perth, he wrote voluminously and vehemently about the issue, fighting hard to rebuild ALP unity in Western Australia and denouncing political renegades who had crossed the floor. In the second conscription referendum Curtin led the "No" campaign for the west. While the battle was lost locally, the "No" vote carried the day nationally and Australia remained the only combatant nation to rely on a voluntary army.
After the war life settled into a more harmonious routine. Two months after moving to Western Australia, Curtin married Elsie, daughter of Labor supporter Abraham Needham. The couple had met when Curtin travelled to Tasmania on union business and romance blossomed via correspondence and occasional meetings.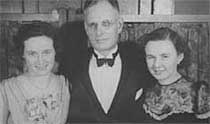 Curtin poses with family members
for an evening's celebration. Records of Anne Taylor. John Curtin and Mrs Betty Curtin – wife of nephew John Curtin, n.d. JCPML00214/3.
Elsie's evenly balanced temperament was the perfect foil for her husband's sensitive and sometimes highly strung nature. Intelligent, well-read and with a keen sense of humour, reared on Labor principles, outspoken and down-to-earth, she not only provided stability and serenity to his life, but proved to be a more than satisfactory sounding board for his ideas.
The Curtins had two children-a boy and a girl-and lived in Cottesloe close to the beach that Curtin loved. He gave the children swimming lessons and went for long walks on the beach accompanied by the family dog, Kip.
Despite being a hopeless handyman who couldn't knock in a straight nail, he spent endless hours pottering in the garden.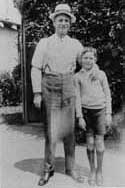 John Curtin and his son, 1932. Records of the Curtin Family. Two John Curtins 1932. JCPML0004/17.

He found Perth congenial and satisfying, and struck lasting friendships, among them Phil Collier, leader of the parliamentary party and eventual premier.
The Curtins' house was more full of books than most and Curtin continued to speak at political meetings. He relaxed by playing cricket for a Cottesloe team and was a member of the WA Football League's Umpire Advisory Board. After a sporting weekend he would often take Elsie to see a Monday-night movie.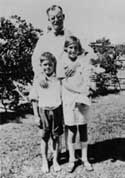 He was a loving father who enjoyed
spending time with both his children. Records of the Curtin family. John Curtin with his children, 1930. JCPML00004/16.

Curtin strongly believed that the press should be "free from the ownership of those who would operate it for profit."
He was president of the State branch of the Australian Journalists Association for several years. He strongly supported education for journalists and planned a series of lectures by eminent speakers such as Professor Walter Murdoch and E.O.G. Shann through the University of Western Australia.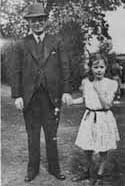 Unfailingly kind and courteous,
Curtin never hesitated to pose for
photos when asked. Records of Edna Rosewarne. John Curtin at a Canberra garden party, ca 1940. JCPML00040/1.
Curtin's editorials continued to reflect his ideas and evolving philosophies and he wrote seriously about a broad spectrum of issues-international affairs; federal and state politics; economics; social conditions-which was to stand him in good stead for his future political career.


John Curtin with friend and federal
Treasurer, Ben Chifley. Records of the Curtin family. John Curtin and Ben Chifley 1941. JCPML00004/25.