Curtin was never happier than when he had his feet on the ground-literally and symbolically. He disliked flying and never drove.
It was not an unusual sight to see the Prime Minister waiting patiently at a train station, bus or tram stop. More often than not at official functions, once other prestigious guests had made resplendent departures, Curtin would walk quietly home.
A profound idealist about his twin causes of Australia and Labor, Curtin did not shirk from the pragmatic reality of political life. "My boy, don't ever expect gratitude in politics," he advised his press secretary, Don Rodgers, as the two of them covered thousands of miles on the campaign trail, travelling by train and sleeping in second-rate country hotels.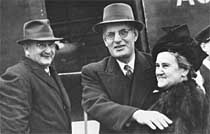 John and Elsie Curtin being greeted at the
train station by Premier John Willcock, c.1943. Records of the Curtin family. Mr Curtin comes home 1943. JCPML00376/128.
Curtin's simplicity, his selflessness and sincere honesty, his scrupulous fairness and his single-mindedness about serving Australia made him eschew publicity for its own sake-a failing that often exasperated his press secretary! His staff loved him. At Christmas time he would make a special effort to personally thank the Canberra telephonist for putting through calls so promptly. Curtin was always a favourite to attend staff weddings and at a football game he could barrack as loudly as any supporter.
At home in Cottesloe, even as Prime Minister, neighbours never failed to greet him with a casual "Good day, John" and he would sometimes stop and have a yarn with them in the street. At the 1944 Perth Cup races he backed Cup winner Loyalist because he was "mindful of the loyalty of the West Australian people." On the long train trips between Canberra and Perth he played bridge and read for relaxation. Billiards was another favourite pastime at the Lodge.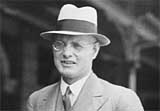 John Curtin, 1938. Records of the JS Battye Library of West Australian History. JCPML00139/64.
Sartorially strict, Curtin could always be found at work in a three-piece suit, sometimes sporting a bowtie, and saw no excuse not to have "well-polished boots with well tucked laces."
However, on a couple of occasions his braces let him down. Due to address his first big political gathering on a hot summer night, he took off his jacket. On the platform, despite his nervousness, he made a brilliant speech and was roundly applauded-until he turned to sit down when loud laughter greeted the sight of his braces hanging down the back of his trousers! On another occasion his secretary was sent to buy a pair of braces, and returned to the office confident that she had purchased the best pair in Canberra. Some time later she found her harassed employer struggling to adjust the new purchase. "In spite of our combined efforts and my protest that they were the best I could buy and were made in France, the result was that I was sent back to the shop to tell the salesman that only to a woman would anyone have sold such a ridiculous pair of braces!"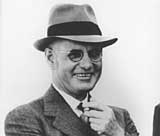 John Curtin relaxing, c. 1944. Records of the Curtin family. John Curtin at a garden party for Canberra Hospital Auxiliary, 1941. JCPML00376/133.
While away from Elsie's home cooking, Curtin was a regular diner at the Hotel Kurrajong, where he stayed while leader of the Opposition. A deep thinker, Curtin sometimes appeared distant and unemotional. Yet he had a genuine concern for his fellow human beings. When Edie Gibson, a housemaid at the Kurrajong, contracted tuberculosis Curtin took the time to visit her in hospital.
He was unfailingly courteous and kind-ask the doorman at Parliament House, the night porter at the Palace or the typists at the Worker.
Growing up in an era of gaslight and cable trams, but dreaming always of future possibilities, Curtin's political philosophy was not restricted to thinking in terms of days or months, but in terms of decades.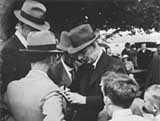 Signing autographs in Canberra, 1942. Records of Claire Lupton.
Curtin signing autographs at the dedication of St Ninian's Church 1942. JCPML 00022/1.