John Curtin was born in Creswick, a Victorian mining town, on 8 January, 1885. It was the year Australians went to war for the first time-fighting for Britain in the Sudan; the first woman was admitted as a medical student to the University of Sydney; and the Australian Workers Union was founded.
The Curtin family lived in a weatherboard cottage overlooking Creswick Creek. John was the oldest child of a family of four-brother George and sisters Mary (Mollie) and Frances (Francie).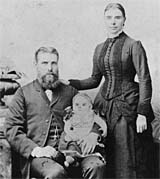 John and Kate Curtin with their son, 1885. Records of the Curtin family. JCPML00376/212.
His parents-John and Kate Curtin-were Irish and John's mother was a strong woman, vocal, dominant and wrapped up in politics; it was she who encouraged young "Jack" to develop an interest in politics.
John's father was a police constable until he was forced to retire due to ill-health.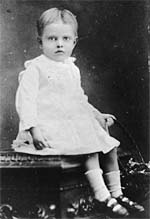 John Curtin aged approximately 2 years 1887. Records of the Curtin family. JCPML00376/210.
The family set about managing a succession of hotels. The constant moving from town to town meant that John had an erratic education before leaving school at 14 to help support the family through what John recalled as times of "bread without butter." His first job was as a copyboy for the Age, earning five shillings a week.
What he may have lacked in formal education, John made up for through his passion for reading and learning-exposing himself through the public library to political works by William Morris and Edward Bellamy; Shakespeare's plays and the poetry of Omar Khayyam. Despite his mild-manner and bespectacled appearance, John was also an avid sportsman, playing both football and cricket. His best mate was Frank Hyett who played interstate cricket and another lasting friend was Jock McHale, Collingwood footballer and coach.
As a teenager, John went with his father to meetings during the Commonwealth federation campaigns-listening to the debates on whether or not Australia should take this first step on the road to separation from Britain.
The birth of the Commonwealth in 1901 profoundly influenced his feelings about being an Australian and his beliefs about the future of this new nation.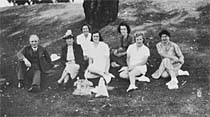 Curtin relaxing at the Lodge with a group of friends and workers. Records of Gladys Joyce. Tennis party at the Lodge, 1942. JCPML00216/4.
Continuing to question established opinion and questing for more knowledge led John to the Yarra Bank and into discussions with socialists such as Frank Anstey and Tom Mann, whose radical ideas affected his own ideals. It was about this time that he abandoned Catholicism and embraced Socialism. "All hail! Christ the Socialist!" he wrote several years later. "We need more of the Christianity of Christ worked out according to the best possible political and economic forms of society. We must create the machinery that will make practically applicable the brotherhood of man in the widest relations possible... This true relation of men to one another on the basis of brotherhood without class privilege is the principle which Socialism strives for."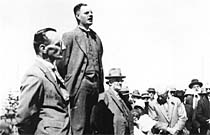 John Curtin speaking at the opening of South Beach Fremantle 1928. Records of the Curtin family. JCPML00376/160.
He won a reputation as a "Labor boy-orator" speaking, not from prepared notes but as the spirit of truth moved him-atop soap boxes from Hyde Park to the Domain, from street corners to the Yarra Bank. The response from the crowds was exciting, inspiring and hazardous-hecklers did not confine themselves to verbal abuse-but John Curtin was a convincing speaker able to manage the rowdiest crowd. It was good training for the political life ahead.