In her 1984 National Press Club speech Hazel Hawke's comments on welfare are didactic, perhaps as a residue of her academic studies undertaken prior to the move to Canberra:
'From the process of rehabilitation or learning to cope with and improve one's position of disadvantage, whether it's physical or psychological or material, one must feel a participant and not that it is being done to one or for one by others. This gives a positive feeling of some power and control in one's own life.'
She spoke frequently of the confidence building virtue of volunteer work and its contribution to self-esteem. In her own experience voluntary work with the Brotherhood of St Laurence had led her to paid work and to higher study.
She advocated welfare as a global responsibility and linked it with the inestimable value of self-esteem, seeing this as the key to the improvement of one's position of disadvantage. From this premise Hazel Hawke frequently extrapolated to speeches on women, children, Aborigines and migrants.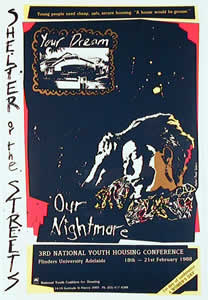 Julie Shiels, Another Planet Posters
Shelter or the Streets: 3rd National Youth Housing Conference, 1988. Silkscreen print, 50.1 x 76 cm
Curtin University of Technology Art Collection
Photograph: JCPML00772/3