The poster and the nature of its production afforded the artists greater freedoms in their use of language, imagery and ideology. Posters were designed and produced to startle.
On Australia Day 26th January 1988, in the year of the Australian Bi-Centenary an alternative exhibition of Poster Art was launched in South Australia. The predominant use of fluorescent colour or the red, black and yellow derived from the Aboriginal flag, was combined with provocative and sometimes witty annotations or cartoon style imagery.
The impact of a poster art exhibition that focussed on indigenous Australia and was in opposition to other celebrations also maintains its significance. It provided the opportunity to reflect upon and to evaluate the worth of poster collectives to the role of debate in the public realm.
'Community-based organisations have carried new ideas across Australia, introducing concepts like disarmament, human rights, aboriginal land rights, feminism and gay rights into the vernacular. Cooperative presses have acted as a mouth-piece for these issues and they have been vital to the development of Australian literature and art, publishing the work of experimental writers and artists when commercial printers and publishing houses refused to do so. The presses have championed the right of people to shape their world.'
Julia Church
See section on Further reading to find out more about poster art.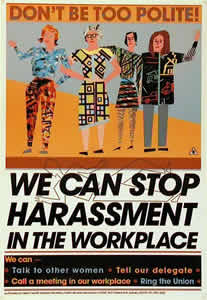 Alison Alder, Redback Graphix
Don't Be Too Polite, 1988
Offset print, 48 x 69.5 cm
Kerry Stokes Collection, Perth
Photograph: JCPML00772/3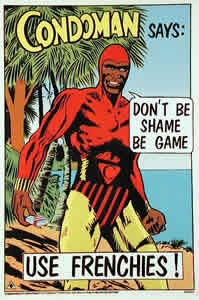 Michael Callaghan, Paul Cockram Redback Graphix
Condoman/Use Frenchies, 1987
Silkscreen print, 51 x 76 cm
Kerry Stokes Collection, Perth
Photograph: JCPML00772/3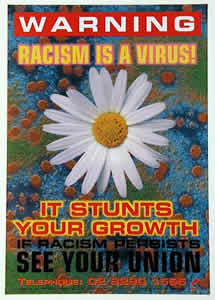 Michael Callaghan, Greg McLachlan, Redback Graphix
Warning Racism Is A Virus, 1997
Offset print, 29.7 x 59.4 cm
Kerry Stokes Collection, Perth
Photograph: JCPML00772/3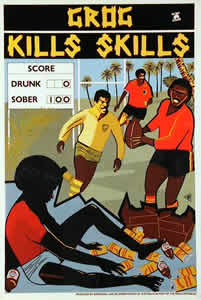 Marie McMahon, Redback Graphix
Grog Kills Skills - Football Version, 1988
Silkscreen print, 51 x 76 cm
Kerry Stokes Collection, Perth
Photograph: JCPML00772/3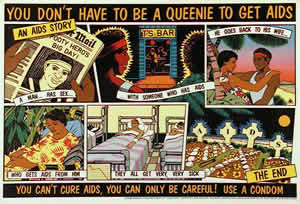 Steven Lees, Redback Graphix
You Don't Have To Be A Queenie, 1988
Silkscreen print, 51 x 76 cm
Kerry Stokes Collection, Perth
Photograph: JCPML00772/3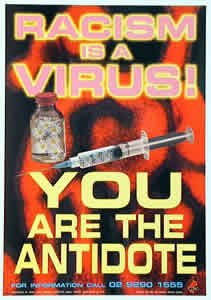 Michael Callaghan, Greg McLachlan, Redback Graphix
You Are The Antidote, 1997
Offset print, 29.7 x 59.4 cm
Kerry Stokes Collection, Perth
Photograph: JCPML00772/3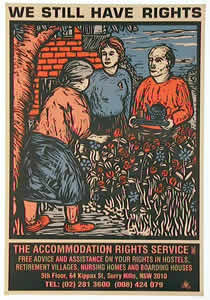 Alison Alder, Lawrence Finn, Redback Graphix
We Still Have Rights, 1989
Offset print, 40.5 x 59 cm
Kerry Stokes Collection, Perth
Photograph: JCPML00772/3