The ups and downs of being a wife and mother

John Curtin wanted a house entirely surrounded by verandahs that he could walk around as he composed speeches. In 1923, the Curtins purchased land in nearby Jarrad Street, then just a gravel road surrounded by bush.

Eventually, the house was built with verandahs on three sides, but, as it filled up with family members, these were gradually built in to create more bedrooms and a larger sitting room/study to house their significant book collection and Elsie's piano, which she had purchased soon after her marriage.

John Curtin Junior's early memories were of a house backing onto paddocks filled with trees and wildlife, where he and his mates used to play cowboys and Indians. They also built a speedway for their bikes, carefully screened by trees from parental eyes.

Later, the family inherited a dog, named Boyo, from the neighbours. After he died, they got a black kelpie, which was named Kip. Kip was Elsie's loyal companion, accompanying her to the shops, and being a guard dog during John's frequent absences from the late 1920s. The dog used to howl when Elsie played the piano, but she always insisted that it was 'singing'. 30

The family also had a succession of cats, all of which seem to have disappeared – possibly because they met an untimely end on Jarrad Street, which, by 1926 had become a 'very noisy' (and presumably busy) road. 31

In January 1929, Elsie's brother, Leslie, arrived from South Africa for a holiday, prior to taking up an appointment as organist at St. Matthias' Church in Paddington. Apart from his church duties, he gave public organ recitals in metropolitan and country churches.

Leslie had not married and did not have any family other than his siblings and his mother – all living at considerable distances from Sydney. In May 1933, Elsie and Leslie suffered the loss of their older brother, William, who died at the early age of 49 years. No spouse or children were mentioned in his death notice. 32

Although Elsie maintained an active role in the Labor Women's Organisation, her main commitment was to her husband and family, which meant being available when they needed her. Life with John – especially when the children were young – was often difficult, although Elsie was far too loyal to admit this.

In 1919, after an unsuccessful attempt to enter politics, standing as Labor candidate for the seat of Perth, coupled with personal grief over the deaths, in short succession, of both his father and his closest friend, Frank Hyett, John suffered a mental collapse, lapsing into severe depression for several months. Abraham Needham helped out by writing polemical editorials for the Worker, when John was unable to fulfil his duties at the paper.

Elsie's recollection of this crisis was surprisingly frank. She told Diane Langmore:

[John] veered between moods of high optimism and deep melancholy, as inexplicable as they were irregular. He would wake up in the morning at peace with the world and I'd start my household chores with a light heart. By lunchtime I would be treating him with a blend of sympathy and 'Come, now, things aren't as black as that', which I learned through long months was the best mixture. 33

This was a time of crisis, but although it passed, John's bouts of depression and his battles to overcome alcoholism continued. Despite promising to give up alcohol when he married Elsie and when he took the job at the Westralian Worker, it is evident that he continued drinking at least until 1931 and possibly 1935. Why else would his colleagues have taken the trouble to ascertain whether he would 'stay sober' 34 before asking him to stand as ALP Leader when Scullin decided to retire?

Daughter Elsie recalled times when Curtin came home late, intoxicated, and one occasion when he turned up at the back door early in the morning, still dressed in his dinner suit. She commented, 'I probably forgot about it, but I think my mother did not forget'. 35

During John's first term in Parliament, Elsie and the children visited Canberra twice. They arrived in January 1929 and stayed at the Wellington Hotel. The children attended Telopea Park school for one term. Elsie was present at John's maiden speech in Parliament on 14 February. They stayed until April, returning for a few weeks in November after the Scullin government was elected and remaining until Christmas. 36

In preparation for the 1931 election, the family folder delivered election leaflets around the Fremantle electorate. When Curtin lost his seat in Labor's crushing electoral defeat, he relapsed into depression and alcoholism. Elsie seemed to take the defeat in her stride, despite suddenly finding herself the wife of an unemployed man. Black suggests that this was partly because John's drinking problem was 'much less obvious' when he was a private citizen.

Part-time jobs and income from a rental property enabled them to get by financially until John was appointed by the Collier State Government to chair a committee to draw up Western Australia's submission to the Commonwealth Grants Commission. Meanwhile, John was home and able to spend time in the garden and with his children. 37

John clearly credited Elsie with giving him the courage to stand for election again on two occasions after defeat – firstly in 1928 and then in 1934. During Elsie's visit to Canada in 1944, the Quebec Chronicle of 31 May profiled her, including this comment:

In 1928, when he couldn't decide between journalism and politics, it was Elsie Curtin who gave her husband the decisive initiative with her simple, "You were meant for Parliament." Later, when Curtin was defeated in 1931, his wife – "Nippy" as he affectionately calls her – again came to his aid with consoling words. "Never mind," she said, this means nothing. You'll be back in parliament again." And three years later, he was.

A report in The Argus (Cape Town) after Elsie's death in 1975, reported, similarly:

[John Curtin's] political zeal might have faltered, however, when in 1931 he lost his seat in the Federal Parliament of Australia. The Western Australian Government offered him an attractive permanent job and, when he talked it over with his wife – because he believed a wife earns half a man's salary – she advised him to stick to politics where his heart was.

Consequently, she might have added 'counsellor', if not 'prophet', to the home making skills she was prepared to acknowledge.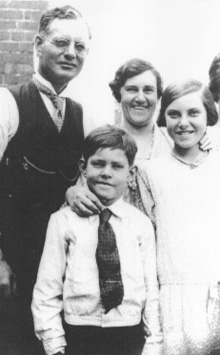 John and Elsie Curtin with their children, Melbourne, 1928.
Records of the Curtin Family. JCPML00004/12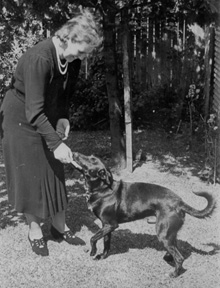 Mrs Elsie Curtin with "Kip" the dog, 1941.
Records of the Curtin Family. JCPML00376/23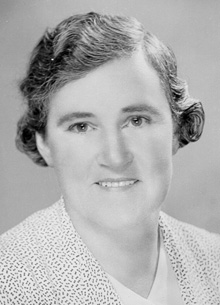 Mrs Elsie Curtin, 1938.
Records of the Curtin Family. JCPML00376/120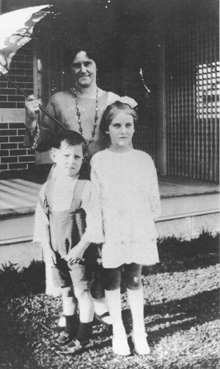 Elsie Curtin with John and Elsie, 1925.
Records of the Curtin Family. JCPML00004/10