Return to Australia
The Curtins' ship docked in Brisbane on 26 June 1944. After their return to Australia, Elsie remained in Canberra until the beginning of August, during which time she entertained dinner guests with a 'racy' account of her trip to America. She spoke confidently and without notes 86 – quite an achievement for the woman who reportedly liked to work behind-the-scenes out of the limelight.

In Canberra in July, Elsie again spoke publicly at the farewell of Lady Gowrie, the wife of the retiring Governor General. She told of Lady Gowrie's persistence in shilling drives to collect funds for servicewomen. 'The way I was pushed with that shilling drive, I ought to be glad that she is going away', she joked. 87

At the Labor Women's Conference in Perth in September 1944, Elsie was elected President of the Labor Women's Central Executive. She presided over her first executive meeting in November, prior to which she was guest of honour at a party hosted by Senator Dorothy Tangney. Elsie was also elected as the delegate to the LWCE Interstate Conference in Adelaide the following February. 88 Her LWCE duties and preparation for her son's forthcoming wedding kept her very busy.

Late in 1944, after a brief, two-week visit to Perth, John Curtin suffered a heart attack while returning by train from Perth and was hospitalised in Melbourne. He was unable to attend his son's wedding to Catherine Neill at Ross Memorial Presbyterian Church in West Perth on 9 December, but urged Elsie not to come east until after John's marriage. The ceremony was followed by a small family party at the Palace Hotel in Perth. 89

Daughter Elsie joined Curtin, travelled back with him by car to Canberra at the end of December and helped him celebrate his sixieth birthday at the Lodge on 8 January. 90 Elsie arrived in Canberra on 14 January and was present in Parliament House for the swearing in the new Governor General, the Duke of Gloucester. She also hosted what was described as in 'informal' reception at Parliament House, which involved plenty of 'bowing and curtseying'. 91
Her first Australian press conference

In February 1945, Elsie gave her first Australian press conference – which the Argus dismissed as 'an informal chat' with women journals; in fact that paper reported that she 'chattered' to the women of the Press. But the Sydney Morning Herald's reportage of the event indicates that Elsie gave a wide-ranging interview in which she revealed previously little-known details about her family background – such as her father's ability to paint and write poetry, of which she was very proud. She also talked about life in Canberra, declaring that she slept badly there, 'the altitude probably having something to do with this', and her work in the women's labour movement. 92

She opened the LWCE Interstate conference in Adelaide on 12 February. 93 At the end of February, back in Canberra, Elsie hosted a reception in honour of the Duchess of Gloucester at Parliament House. 94 John Curtin's illness prevented her from attending the LWCE's April meeting. She remained at the Lodge until his death in July.


Elsie Curtin with son Sgt. John Curtin, c1945.
Records of Australian Consolidated Press. JCPML00410/12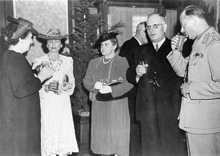 John and Elsie Curtin with the Duke and Duchess of Gloucester, Canberra, 1945.
Records of the Curtin Family. JCPML00376/76