A lifetime of work recognised
Elsie remained in the house at 24 Jarrad Street with daughter Elsie and son-in- law Stan McLeod. In April 1970, she was awarded a Commander of the British Empire, for her services to the community, including her work with prison inmates and as Justice of the Peace. But the citation also mentioned the encouragement she gave to her husband and her interest in 'his' political party. 110

Interviewed just before her 80th birthday, Elsie said that 'lots of other people have done more than I have' and she did not intend to write her memoirs. 'I don't think anyone would be interested in reading a book about me'. But even at that late stage of her life, she remained a member of seven organisations, and regularly attended meetings of three of these. She still enjoyed writing letters and said that she would be happy to spend her whole day writing. 111

In March 1974, at the age of 83, Elsie refused an invitation to fly to Canberra and lay the foundation stone for John Curtin House, the new national headquarters of the ALP. She commented, 'I'm a bit old to be flying across Australia. I'd like to go but I'm afraid I must miss the occasion'. 112

Five months after suffering a stroke, she died on 17 June 1975, aged 84 and was buried beside her husband in Karrakatta Cemetery, following a service at the Congregational Church. Her epitaph is: 'A loving wife and mother'.

Elsie Curtin may have thought that no one would be interested in reading a book about her, but her contribution to Australia's history is significant. Not only was she the rock upon whom her husband depended, but she negotiated life's experiences, both commonplace and exacting, with dignity, charm and humour, meeting and entertaining royalty, heads of state and people from all walks of life while maintaining her natural personality.

Sometimes criticized for 'bluntness' and lack of tact, she was, after all, a woman who saw herself as an ordinary Australian housewife, whom circumstances carried into the most unexpected of places. Ironically while her husband was championed as 'plain John Curtin' who remained in touch with the ordinary Australian, Elsie's 'plainness' does not seem to have received similar praise.

While today, we are accustomed to Australian Prime Minsters and their partners travelling around the world and conversing with foreign heads of state, this was not commonplace prior to World War II. Perhaps Elsie's Socialist background, with its tenet of equality, enabled her to meet royalty, Presidents, Prime Ministers and their spouses, and treat them with the same natural friendliness as her acquaintances in Perth.

While only a decade of Elsie's 84 years were lived in the public spotlight, it is evident that she was contributing not only to the labour movement, via the work of the Fremantle Labour Women's Organisation, but to a number of other community organisations, including charities, long before her husband became Prime Minister. Her contribution to the labour movement and the broader community, therefore, deserves public recognition.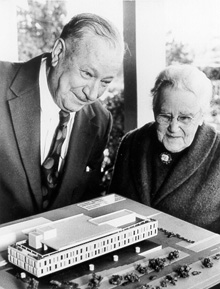 Elsie Curtin with Sir Richard Kirby, Perth, 23 August 1974.
Records of the Curtin Family. JCPML00376/244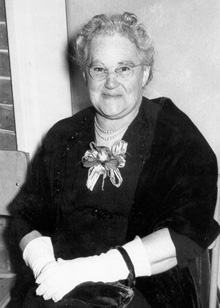 Elsie Curtin, October 1958.
Records of the Curtin Family. JCPML00381/42