Early life in South Africa

Elsie Curtin (neé Needham) was born at Ballarat, Victoria, on 4 October 1890 to Abraham Needham, a sign-writer and painter, and his wife, Annie (neé Hosking). The only daughter, 1 Elsie had two older brothers, William and Leslie.
Abraham Needham moved to Cape Town, South Africa, in 1896, and established the sign-writing firm of Needham and Bennett with a business partner, John Ansle Bennett, who was also from Australia. His wife and family joined him in 1898, when Elsie was seven years of age. The family lived in a house in Devon Street, in the suburb of Woodstock, until she was seventeen years old.
As a 'pioneer socialist', a gifted writer and fluent orator, Needham was a familiar sight at Van Riebeeck's statue, a spot that was Cape Town's equivalent to Hyde Park Speakers' Corner in London. In 1904, he was a foundation member of the Social Democratic Federation (SDF) and served for some years as its Chair. He used his sign-writing skills to produce banners bearing slogans such as 'Socialism – the Hope of the Age'. Some of his banners were used to welcome the British labour leader Keir Hardie on his visit to Cape Town in March 1908. 2

On 14 August 1906, the police arrested Needham and another SDF leader, H.V. Levinson, for taking part in a street demonstration by unemployed workers, who were desperate for basic needs of food and clothing. Some of the demonstrators rioted, breaking into food and clothing shops. Needham and Levinson were charged with throwing stones through windows, and 'inciting the unemployed to riot', even though they had no part in the violence that accompanied the demonstration. Initially they were refused bail and remained in prison, but after five days, they were released on a bail of $3,000. After some weeks of preliminary examinations and adjournments, the Law Department decided not to continue with the case. 3

Abraham Needham edited the SDF's newspaper, the Cape Socialist, for three years and he also wrote poetry. Elsie recalled him 'sitting up late, night after night, burning the midnight oil, while he studied, read, or wrote articles for his paper and poems'. 4 As a preacher in the Methodist Church, he often equated the values of Socialism and Christianity.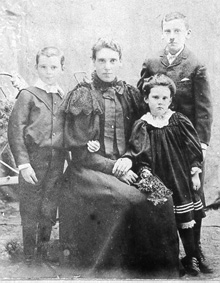 Mrs Abraham Needham with her three children in Beaufort Victoria, 1895.
Records of the Curtin Family. JCPML00376/230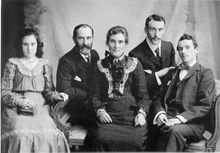 Abraham and Annie Needham with children William, Leslie and Elsie in Cape Town, 1904.
Records of the Curtin Family.
JCPML00376/237