A courtship by letter
There are conflicting accounts about where Elsie and John Curtin first met. Dame Enid Lyons recalled that it was an occasion in Hobart in May 1912 16, when Curtin shared a platform with her husband – then ALP member – Joe Lyons. Enid Lyons claimed that, 'As Curtin stepped down from the box which had been their unpretentious rostrum, he had seen a girl called Elsie Needham, and fallen in love at first sight'. 17

But Dame Enid's biographer, Diane Langmore, disputed this romantic version of events, and stated that the couple are more likely to have met at the Needham's home where John had been invited for afternoon tea.

This latter version seems to be borne out by Irene Greenwood, who interviewed Elsie in Perth shortly after John Curtin's death. Greenwood stated that Curtin met Abraham Needham at the political meeting and that Needham was 'so impressed with him that a week later he brought him home to meet the family'. 18

Curtin became a frequent visitor to the Needham home during the month he spent in Hobart. When they met, Elsie was 21 and John was 27 years of age; their courtship would last for five years.

Many difficulties beset any prospect of developing a lasting relationship. As a strict Methodist, Elsie had signed the pledge and neither drank nor danced; Curtin was a heavy drinker who within three years would be hospitalised for alcoholism, and dancing was one of his favourite pastimes.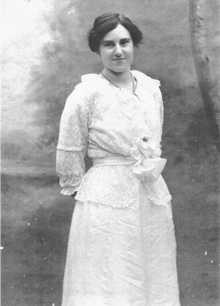 Elsie Needham aged 22 1/2, Melbourne, March 1913.
Records of the Curtin Family. JCPML00004/3


But, far more important that either of these differences was Curtin's Roman Catholicism, although he did not adhere to religious practice. David Day suggests that Curtin's mother, in particular, would have opposed his marriage to a non-Catholic. 19
And there was the fact of physical separation. In an age before commercial flights, the journey from Melbourne to Hobart was lengthy and expensive for a person of limited means. John later told an interviewer from The Australian Women's Weekly, that he used to save up until he had five pounds, book a return ticket steerage to Hobart for four pounds, ten shillings, and 'set out to woo my lady-love with ten shillings to spend on entertainment'. 20

He omitted to say how he paid for board and lodging during that time, as the morals of the day prevented him from staying at the Needhams', but much of their time was spent 'sitting under a tree', presumably talking.

Perhaps it is not surprising that the messages Curtin wrote in Elsie's autograph album – a somewhat intimate gesture that clearly indicated friendship if not courtship – were stilted and didactic. For example, on 20 May 1912, he wrote:

"Ye shall be one nation!" (Isaiah); "Ye shall know the truth and the truth shall set you free." (Holy Writ); "Workers of the world unite! You have a world to gain and only your chains to lose." (Karl Marx ); "Let there be no fatalism in our counsels. Let us look neither to right nor left, nor to hell [nor] heaven. But let us spend ourself [sic] in discovering the laws of life and of society so that we may do wisely and justly. And let it be not for the love of God nor the fear of Hell – but because we are truthful and fear no evil." [John Curtin]

Another message, on a much lighter note, was addressed to 'My very dear friend and comrade, Elsie Needham, aged ?' And, further in this vein, 'Love all men, love all women – I at least attempt the latter. You should try the former'. 21

Over the next two years, Elsie and John corresponded irregularly, but within a year, he was addressing letters to 'Elsie Dear' 22. He visited Hobart again in March 1913, and they went out to 'a couple of shows together'.

Nevertheless, by the winter of 1914, when Elsie came to Melbourne to board a steamer for South Africa where she planned an extended stay with her brother Leslie, most of their courtship had been by letter.

Day suggests that Elsie was the instigator of Curtin's hesitant marriage proposal, which he made just before she boarded the ship. Of Elsie's feelings at this time, unlike many other occasions in her life, we can be certain because we have her own words. 'I would have given anything to have been able to grab my baggage from the hold and run down the gang-plank again'. Instead, she went to South Africa, carrying a photo of 'Jack' Curtin (as he was then known), which she proudly showed to friends and family. 23

Lloyd Ross related a slightly different version of the proposal, stating that Curtin was 'insistent' that she agreed to marry him. 'He told her she could not go to South Africa unless she consented'. 24

Elsie returned to Melbourne in November 1915 aboard a one-class boat the Commonwealth, where she met the socialists Vance and Nettie Palmer, who were returning from Britain. Elsie loaned one of her books, titled The Pit or Octopus, to a fellow passenger, Albert Rowe, who failed to return it.

Years later, at the opening of Federal Parliament in Canberra in 1929, she reminded the startled new Federal member for Parramatta that he owed her a book, adding 'Commonwealth, 1915' to jog his memory. 25

Despite her return to Australia, however, marriage was still postponed as John, having resigned from his position as Secretary of the Timber Workers' Union, did not have sufficient income to support a wife. 26