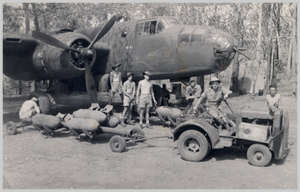 Alliance with Netherlands East Indies
The entry of Japan into World War Two forged an alliance between the American, British, Dutch and Australian (ABDA) military in the interests of defending the region around the Netherlands East Indies (now Indonesia) and Australia. 
Secret cablegrams, letters and notes were exchanged between Australia and the Netherlands East Indies (NEI) on a range of topics including the transfer of Japanese interned soldiers to Australian territory, establishing a radiotelegraph service between the two countries, Australian training of NEI air crew and the exchange of diplomatic representation.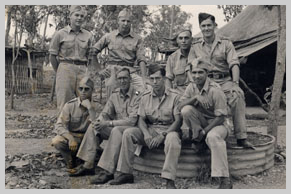 Netherlands East Indies forces in Australia. R. Willemsen, courtesy Nonja Peters.

Evacuation to Broome
Evacuation to Australia of NEI bureaucrats and military personnel with the expertise to continue the war effort began two days after the fall of Singapore. Broome was chosen because it was close to Java and could take both land-based aircraft and flying boats.
The evacuation operation transformed the sleepy pearling town into a high air traffic port, akin to La Guardia Field (New York's airport) at its busiest. Around 57 aircraft were processed daily and between 7,000 and 8,000 refugees passed through Broome in 14 days.
Shuttle flights were discontinued the day after the Battle of the Java Sea on 28 February and reopened only briefly on the night of 2 March 1942 to enable the Marineluchtvaartdienst (Dutch Naval Air Service, or MLD) to escape with 80 crew and 81 civilians, including widows and orphans of the Java Sea Battle.