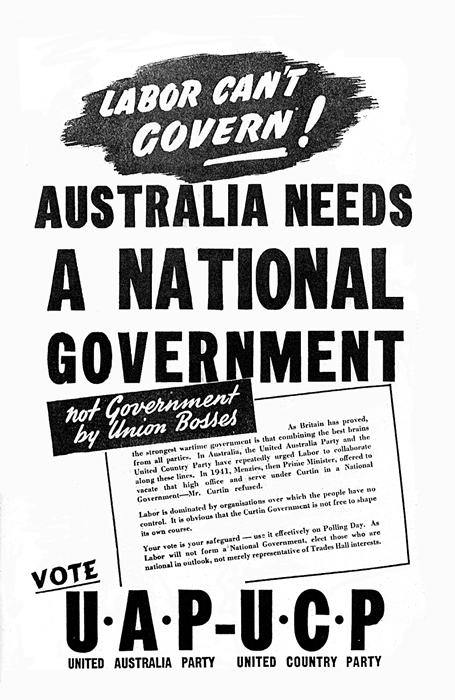 LABOR CAN'T GOVERN!
AUSTRALIA NEEDS A NATIONAL GOVERNMENT
not Government by Union Bosses
As Britain has proved, the strongest wartime government is that combining the best brains from all parties. In Australia, the United Australia Party and the United Country Party have repeatedly urged Labor to collaborate along these lines. In 1941, Menzies, then Prime Minister, offered to vacate that high office and serve under Curtin in a National Governement - Mr. Curtin refused.
Labor is dominated by organisations over which the people have no control. It is obvious that the Curtin Government is not free to shape its own course.
Your vote is your safeguard - use it effectively on Polling Day. As Labor will not form a National Government, elect those who are national in outlook, not merely representative of Trades Hall interests.
VOTE UAP-UCP
UNITED AUSTRALIA PARTY - UNITED COUNTRY PARTY
Authorised by H. W. Horsfield, 30 Ash St., Sydney.
The Bulletin, 28 July 1943