AUSTRALIA TAKES ITS PLACE AMONGST WORLD LEADERS
In 1942, Australia's emerging sense of its own identity as separate from that of the British Empire was re-inforced by Curtin's insistence that Churchill allow Australian troops to return home rather than use them to defend Burma. By 1944, Australia's important contribution to the war in the Pacific was recognised when the Curtins travelled to America, Canada and Britain. In all of these countries Curtin was honoured as an important leader. In Britain, he was awarded the Order of the City of London in recognition of Australia's war effort.
WAS CURTIN A TRAITOR TO HIS OWN CAUSE?
John Curtin's decision to conscript Australian men into the army during World War II was seen by many as going against the Labor Party's traditional platform and his own political principles. After all, he had been prepared to go to prison during World War I for the anti-conscription cause. Certainly this is the view that is captured in Norman Lindsay's cartoon in which Curtin is shown as not having the strength to stand up to the Allies' request that Australia introduce conscription.
What do you think?
John Curtin Prime Ministerial Library, Records of the Curtin family, Dominion Prime Ministers Conference, London 1944, JCPML 00004/31.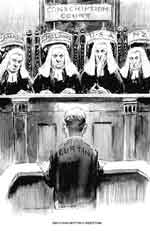 Norman Lindsay 'The conscientious objector' Charcoal and wash Collection, Art Gallery of Western Australia Presented by the Proprietors of the Bulletin, Sydney