In 1902, when John Curtin was 17 years old, he attended a socialist public meeting in East Brunswick. The speaker was Frank Anstey, then a Member of Parliament. Anstey's speech profoundly affected the young John Curtin who moved a vote of thanks at the time and thus came to the older man's attention. Anstey was a socialist who had come to Australia from Britain at the age of eleven as a stowaway on a ship. He was a member of the Tocsin Clubs, the forerunners of the Labor Leagues, as well as a founder of the Victorian Labor Party.
Another man at this meeting, Tom Mann, also became a life-long friend and mentor. Mann was a British socialist who had come to Melbourne as the organiser for the Victorian Labor Party. He was famous for his speeches and for his role in British unionism. Between them, these two men provided John Curtin with a socialist education and the opportunity to hone his oratory skills. Under their influence, John Curtin read the works of writers like Edward Bellamy, Karl Marx and Ramsey McDonald. Mann was particularly influential in turning John Curtin into an internationalist, into someone who believed the interests of workers were above those of the nation.
John Curtin became a committed socialist, a member of both the Victorian Socialist Party and the Labor Party. He worked alongside Anstey and Mann,
participating not only in the social life of the socialist movement but also contributing to their intellectual life. He wrote for socialist magazines and was a speaker at the popular Yarra Bank meetings, which were famous for discussing the political issues of the day, as well as on street corners. By 1907 he was Branch President of the Brunswick ALP. He was already a published author, having put forward his political platform in the first issue of the Socialist, the magazine of the Victorian Socialist Party:
"It makes not one iota of difference what form of government or the nature of fiscalism in operation, the dominant characteristic is everywhere the same - an accumulation of wealth, contemporaneous with an increasing degree of extensive and intensive impoverish-ment and suffering. But even in the widespread character of the festering social sore we find a gleam of comfort, because it constitutes the condition which makes Socialists, and gives to the movement an irresistible power to attract all who feel themselves oppressed."
(2 April, 1906)
While some of this early revolutionary zeal would disappear, the basic themes of internationalism, the need to fight inequality and overcome capitalism continued throughout his life.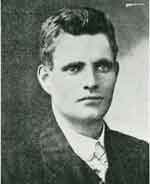 John Curtin Prime Ministerial Library, Records of the National Library of Australia, John Curtin in the Melbourne Punch, 29 August 1912, JCPML 00438/1 (original held by the National Library of Australia).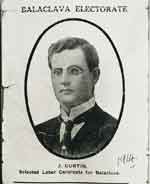 John Curtin Prime Ministerial Library, Records of Paradigm Press, Election pamphlet, Balaclava, 1914, JCPML 00180/4.