Set of 3 bronzes of John Curtin.
Sculptor Peter Latona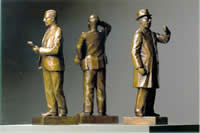 Photographs: Robert Frith, Acorn Photo Agency
On 5 July 2004, as part of the commemoration of the anniversary of John Curtin's death, the Vice Chancellor of Curtin University of Technology, Professor Lance Twomey, unveiled a set of three statues, commissioned by the JCPML, of wartime Prime Minister John Curtin. Members of Curtin's family and JCPML Foundation Patron Gough Whitlam and his wife Margaret were present at the unveiling.

The three poses depict John Curtin as an impassioned orator, show him reflecting on his speech notes, and reveal him in a casual pose.

During 2003 the sculptor, Canberra-based Peter Latona, worked extensively from photographs and film footage supplied by the JCPML to make the 30cm high bronze sculptures as lifelike as possible. Peter Latona is a well-known and respected sculptor whose other clients have included the Sydney Opera House, Australian War Memorial, Royal Australian Mint, the University of Melbourne and Hyatt Hotels. Between 1991 and 1996 he undertook a commission to create bronze figurines of all 25 Australian prime ministers.

In July 2004 the bronzes were on display in David Jones' Perth store as part of the Treasures@yourlibrary promotion and in late August the bronzes formed part of Curtin University of Technology's presence at 'WA on Show' in the Perth Convention Centre. For the remainder of 2004, the bronzes were displayed in the JCPML Reading Room before featuring as part of the JCPML major exhibition The Art of the Possible which opened in February 2005.
A second set of the bronzes also features in the touring Art of the Possible exhibition.