Publications and memorabilia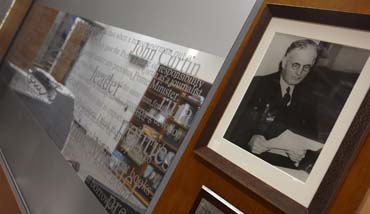 The JCPML has a range of print publications and memorabilia available for purchase, as well as online publications which are freely downloadable.
Some publications, such as the book John Curtin and international relations during World War II are intended for use in the classroom by history teachers and students in Australian secondary schools. Other publications have been authored the JCPML Historical Consultant or by Visiting Scholars (eg 'Friendship is a sheltering tree': John Curtin's letters 1907 to 1945 is a sensitive presentation of John Curtin's most intimate letters by David Black, well known political commentator and author. For details of all print publications and to order copies see Print publications.
Purchase memorabilia and selected publications from the JCPML online shop.
Amongst the publications available for free download are the very popular Cartoon PD in a Package, which is designed to develop confidence and proficiency in teachers and students in interpreting political cartoons and John Curtin: Guide to Archives of Australia's Prime Ministers, which describes records on John and Elsie Curtin held by the National Archives, the John Curtin Prime Ministerial Library and other institutions in Australia and overseas. See Free online publications for details of all freely downloadable resources.
Memorabilia available for purchase include mugs, teaspoons and lapel badges.
The Prime Minister and the press: A study in intimacy
A paper based on the speech given by Michelle Grattan at the opening of the JCPML major exhibition John Curtin: A man of peace, A time of war on April 20, 1998. Copies of Ms Grattan's paper may be downloaded from this website or are available free of charge in hard copy by contacting the JCPML. Please provide a stamped, self addressed, A4 envelope with your request.