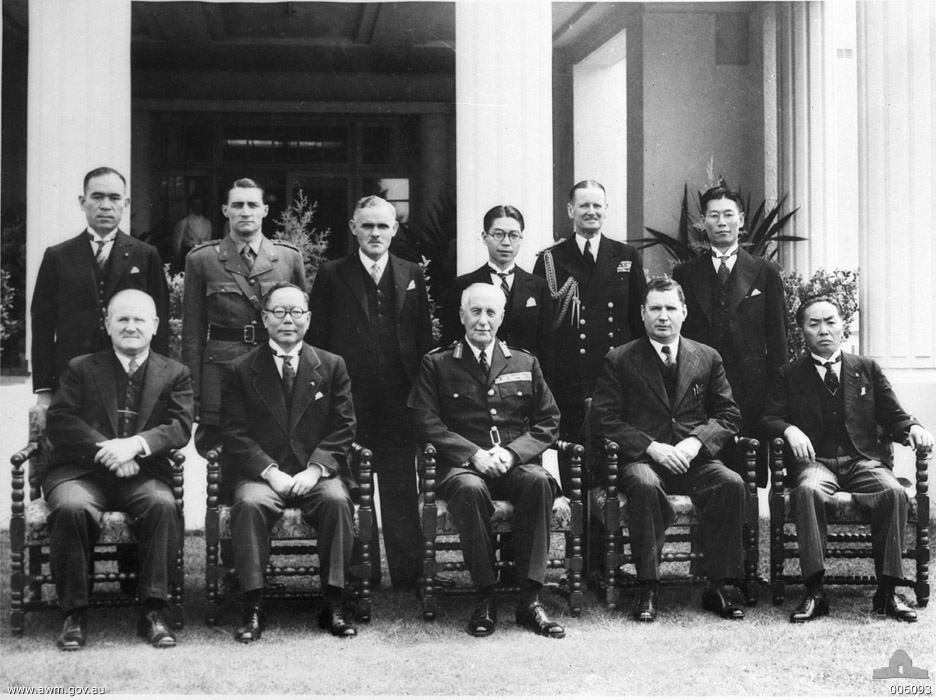 FROM L, FRONT ROW: SIR FREDERICK STEWART, M.H. R., MR. KAWAI,
THE GOVERNOR GENERAL OF AUST. (LORD GOWRIE), THE ACTING PRIME MINISTER (MR. A. FADDEN),
THE JAPANESE CONSUL GENERAL (MR. AKINIMA).

BACK ROW: THE JAPANESE CONSUL IN MELBOURNE
(MR. HATTORA), CAPTAIN MCARTHUR, AIDE-DE-CAMP, THE SECRETARY OF THE DEPARTMENT OF EXTERNAL AFFAIRS
(LIEUTENANT COLONEL HODGSON), MR. TCHIKAWA, OFFICIAL SECRETARY TO THE GOVERNOR GENERAL
(CAPTAIN L.S. BRACEGIRDLE), MR. KUNIYOSHI.

Image courtesy Australian War Memorial, Record ID 006093.

Back