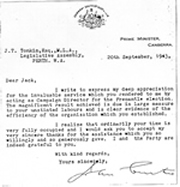 JCPML. Records of John Tonkin. Letter of thanks to John Tonkin from John Curtin, 20 September 1943 for campaign help. JCPML00028/1.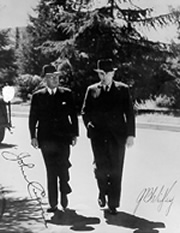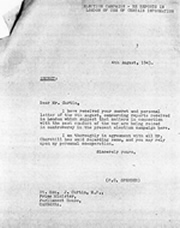 JCPML. Records of Sir Percy Spender. Reply from Percy Spender to John Curtin re confidentiality during election campaign, 4 August 1943. JCPML00528/3.
(Original held by National Library of Australia: MS 4875, box 1.)
In what has been described as a 'spectacular two-chamber victory' 78 Labor won a record 49 of the 74 seats in the House compared with the opposition's 23 with two Independents. Labor captured an additional net 13 seats (14 gains and 1 loss) compared with the combined total of official Labor and non Communist Labor in 1940 (and an additional 17 seats compared with official Labor in that year) and also won back Bourke in Victoria from Maurice Blackburn who had become an Independent. In the Senate Labor captured all three long term vacancies in each of the six states and also won a short term casual vacancy in Western Australia. With newly elected pioneer woman Senator Dorothy Tangney taking her seat immediately Labor's Senate representation from August 1943 rose to 18 or half the members of that chamber and from 1 July 1944 the party's Senate strength stood at 21 out of 36 with 6 Senators from New South Wales and 3 from each of the other five states.
According to Menzies' biographer Alan Martin the word 'deluge' was the word 'most often on the lips of the Opposition and its supporters when the election results became clear'. 79 The Sydney Morning Herald article suggested that 'few prime Ministers have been more explicitly rewarded by the electorate for national services faithfully and competently rendered' while Murdoch, after a few days musing on the result, was now prepared to write, that Curtin had 'moved his own side to a dignified level and tried hard to move it to the middle of the road with promises of moderation that must have made Trades Hall shiver'. 80
Looking at the electoral triumph on a state-by-state basis it is quite clear that as in 1940 the major underpinning of Labor's success was in New South Wales where the party's House representation rose from 16 to 21 of the 28 seats leaving only 4 in UAP hands (compared with 11 in 1934) and 3 held by the Country Party. Seats won from the UAP included Eden-Monaro, Martin, Parkes and Robertson while Hume was taken from the Country Party. In several New South Wales seats, and in particular Eden-Monaro, the UAP was badly affected by the split of its potential vote between official UAP candidates and the breakaway Liberal Democratic Party. Indeed, in the NSW Senate poll the UAP Country vote fell from 43 per cent in 1940 to 33 per cent in 1943 and Labor's lower house vote rose across the State by 7 per cent.
Labor's other striking success came in Curtin's own State of Western Australia. In 1940 Labor had won only two of the five West Australian seats—Kalgoorlie where 'Texas' Green had been returned unopposed and Fremantle where Curtin had scraped home with 50.56 per cent of the vote after preferences—while in the Senate the Labor team had polled less than 38 per cent of the primary vote. Three years later Curtin led his party to a complete sweep of his home state with the ALP winning all five House of Representatives seats and increasing its Senate vote by 17.5 per cent to 56.4 per cent. In each of the three seats lost by the Nationalists there was a very substantial (and in one case huge) swing to Labor. In Swan a Country Party vote of 57.5 per cent after preferences was turned into a Labor vote of just over 50 per cent on the primary count; in Forrest, Labor's candidate Nelson Lemmon polled nearly 53 per cent of the primary count in a seat where the Country Party member J H Prowse had achieved over 55 per cent of the vote in 1940 in a straight out contest with Labor; while in Perth the sitting Nationalist and former Speaker Walter Nairn in losing the seat to Labor's Tom Burke saw his vote after preferences fall almost 20 per cent from his primary vote figure in 1940. Finally Curtin himself polled almost 67 per cent of the votes on the primary count in a seat where his vote after preferences in 1940 had been just over 50.5 per cent.
Labor's other substantial success was in South Australia where, from holding only one of 6 seats in 1940, the party captured four seats—Adelaide, Boothby, Grey and Wakefield—from the UAP and Country Parties leaving only future Speaker Archie Cameron in Barker in non-Labor hands. Labor also won its first senate seats in South Australia for some considerable time increasing its share of the Senate primary vote by nearly 16 per cent.
Elsewhere Labor's gains were more modest. Labor's only other net gain in Lower House representation was in Tasmania where the Hobart-based seat of Denison, lost to the UPA in 1940, was regained with the help of preferences from the former Labor member standing as an Independent. 81 In Victoria the party improved its primary vote by 9 per cent (albeit after contesting three more seats) but its House representation remained unchanged at 9 out of 20 seats with the two Independents from 1940, Coles and Wilson, also retaining their seats. Labor's only improvement in its Victorian House representation came with the defeat of Independent Labor member Maurice Blackburn by labor's official candidate. In Queensland Labor's representation at 6 out of 10 seats also remained unchanged in the House with success by less than 500 votes in Lilley previously held by the UAP being counterbalanced with the loss, by about 1000 votes, to the Country Party in Maranoa, which it had won from that party in 1940. Despite the lack of Lower House gains in these three states, in the Senate there was a swing of 14 per cent to Labor in Tasmania, nearly 16 per cent in South Australia and about 10 per cent in Victoria.
No future party leaders commenced their parliamentary careers for Labor in 1943 but among successful long serving newcomers were Leslie Haylen (Parkes), Fred Daly (Martin), Tom Burke (Perth), Cyril Chambers (Adelaide) and Alan Fraser (Eden-Monaro) while in the Senate there were future Senate leader Nicholas McKenna (Tasmania) and Dorothy Tangney (Western Australia). The 1943 landslide also had the effect of providing Chifley with a substantial buffer when his government faced the people in September 1946. Despite losing six seats in 1946 the party still had 43 of the 74 members and it completed a sweep of five of the six states in the Senate so that after July 1947 all but three of the 36 Senators represented the ALP.