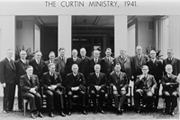 JCPML. Records of the Australian Labor Party WA Branch. The Curtin Ministry, 1941. JCPML00713/1.
(Courtesy: Australian Labor Party, WA Branch).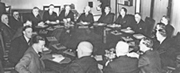 JCPML. Records of the Australian Labor Party WA Branch. First meeting of the Curtin cabinet, 7 October 1941. JCPML00379/3.
(Courtesy: Australian Labor Party, WA Branch).
In the light of Labor's substantial problems in New South Wales the outcome of the September 1940 election was in many respects quite extraordinary and of critical importance in determining Australia's future leadership during the war. On the one hand, there were of course the uncertainties involved for the electorate in changing government at a time when the German advances in Europe had already caused the downfall of the English prime minister but on the other side of the ledger Labor's ongoing problems in New South Wales were well and truly matched by divisions within the UAP's new South Wales branch. As it eventuated, Labor (including the non-Communist Laborites) made a net gain of four seats giving it 36 members in the new House of Representatives the same number as the combined United Australia and Country parties. This left the balance of power in the hands of Arthur Coles, newly elected to Gullett's old seat of Henty, and Alexander Wilson first elected for the Victorian seat of Wimmera in 1937, two Independents representing normally safe non Labor seats in Victoria.
Paradoxically, Labor's major electoral gains were in New South Wales and that was also the only State where Labor was successful in winning Senate seats. Of the House of Representatives seats in New South Wales the combined representation of the Federal Labor and Non-Communist Labor Parties (the Hughes–Evans party did not win any seats) rose from 11 (6 Federal Labor and five Non Communist Labor Party) to 16 (12 Federal Labor and 4 Non Communist Labor ). Curtin's federal party won Reid from J H Gander, its incumbent Non Communist Labor member; Calare and Riverina from the Country Party; and Watson, MacQuarie and Barton from the UAP. In these latter two seats, the ranks of the parliamentary party were significantly strengthened with the election of former MHR and future prime Minister Ben Chifley (who returned to represent the same seat he had lost in 1931) and High Court judge and future External Affairs minister and ALP leader, Dr Herbert Vere Evatt. Labor also won an additional seat in each of Victoria and Queensland but in the other three states suffered a net loss of three seats while Curtin himself came agonizingly close to defeat in Fremantle. Hasluck has pointed out that the Labor vote which had exceeded that of the non Labor parties in five of the six states by 92,650 votes in 1937 was in 1940 in deficit in those same states by 276,595. 36 By contrast, in New South Wales a Labor surplus of 36.000 voters in 1937 increased to 153,000 and made possible the election of three Labor senators from New South Wales thus keeping the party's numbers in that House at 16 out of 36.
Elsewhere, in Victoria, in addition to retaining Corio, Labor won Wannon from the UAP giving it nine of the twenty seats while success in the Queensland rural seat of Maranoa increased its strength in that State to six of the ten seats. With the additional five seats in New South Wales this amounted to a total gain of seven seats enough to take power in its own right but for the loss of two seats—Wakefield (South Australia) and Wilmot—previously won in by elections, as well as a second Tasmanian seat, Denison. Labor polled reasonably well in Western Australia achieving a small swing in four of the five electorates but Curtin himself saw his majority in Fremantle cut from more than 8000 votes in 1937 to less than 700 votes after preferences.