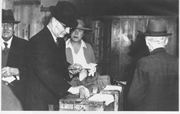 JCPML. Records of David Black. John Curtin casting a ballot 1937. JCPML00180/64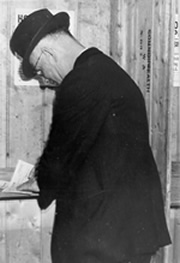 JCPML. Records of the Curtin Family. Curtin casts his ballot, 1936? JCPML00376/60.
Curtin has been assessed by David Day as travelling some 9,000 miles by train and 500 miles by ship during the campaign while spending on average ten hours a day in trains. 12 Lyons, according to Alan Martin, travelled 6000 miles and addressed 43 meetings in 26 days with Attorney General Menzies keeping up an equally punishing regime. 13 Curtin, it is said, 'always stayed in Labor pubs, and in those days they were generally the worst' and while working eighteen hours a day filled in time apart from 'scribbling articles' during the train travels by delving into a stack of novels of various quality which he took with him for just that purpose. 14 Interestingly, several writers refer to the occasion in mid October when both Lyons and Curtin addressed meetings on the same night in Creswick, Curtin's birthplace, though Curtin had spoken initially at the ANA hall before attending a civic reception at the Town Hall after Lyons had delivered his address. 15
Having made several speeches in April as part of the Gwydir by election campaign Curtin spent most of May and early June in Perth before returning to Canberra for the parliamentary sittings commencing in mid June. On his return to Perth in September and after delivering his policy speech Curtin seems to have remained in Western Australia for another week before travelling to South Australia by train with a two day stopover in Kalgoorlie where he addressed electors in the Town Hall, attended a civic reception and a meeting at the of Kalgoorlie Road Board Hall and spoke to the children at Kalgoorlie Central School. 16 During his two days in South Australia he electioneered in Adelaide and Murray Bridge and responded to remarks by retired General Harry Chauvel who was stressing the need for Australia to enhance the development of its army. 17 On Thursday 30 September he spoke again on defence this time in Melbourne and then between 1 and 4 October was in Tasmania before returning to Melbourne and then to New South Wales where he remained from 7 to 15 October except for two days in Queensland. Curtin's last campaign circuit was through Victoria for five days—including the gathering at Creswick already referred to and his 'most enthusiastic meeting' at Ballarat 18 —and then two days in South Australia from where he delivered a nationally broadcast speech before commencing journey to Perth. He was still in the train on polling day itself, Saturday 23 October, and only reached Perth on the Monday morning having relied on radio broadcasts for information as to the outcome of the election.