Extract from
"Prime Minister's wife gives lead to nation" By Mrs. John Curtin
"The Australian housewife would find it hard to imagine herself as a shock trooper, but that is the role she can play in the new army which the Government is recruiting.
That new army is the Austerity Army, and its job is to wage war on wastage, one of the worst enemies of any nation at war.
......
How can the housewife practice austerity in the home? In countless ways, and here are some of them:
She can use cheaper cuts of meat and dress them up skilfully so that they taste as well as the more expensive cuts.
She can use mutton and lamb, of which we have plenty,instead of beef and pork which we need for canning for our own and American forces in Australia and for export to our Allies.
She can use fresh fruits, green vegetables and honey, which are plentiful, instead of foods in short supply such as potatoes and rice.
By rigid economy she can make the weekly allowance of butter and sugar go further, thus releasing more butter and sugar to help meet Britain's urgent needs.
She can release labor for war work by refraining from buying processed food.
...
Above all she can follow the golden rule for austerity shopping - buy only the things you really need and at the time you really need them...."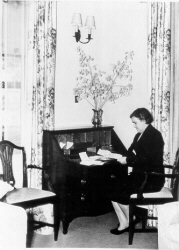 Mrs Curtin, wife of the Prime Minister,
checking over her household accounts
at the Lodge in Canberra
JCPML. Curtin Family Collection. Elsie Curtin reading correspondence at the Lodge. n.d. JCPML00376/242
Extract from
"How the Curtins live"
"Mrs John Curtin, wife of the Prime Minister, has been a housewife all her life.
She has looked after her husband and raised two children in their cottage at Cottesloe, West Australia.
Since living at the Lodge in Canberra she has applied the same simple, efficient housekeeping.
She has closed many rooms and has arranged plain wholesome meals for herself and her husband..."